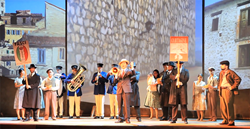 Working across fields to create a production like Il Postino is the ideal training for the next generation of performers and creative professionals. - Mannes Dean Richard Kessler
New York, NY (PRWEB) May 10, 2014
On Friday, May 9, Mannes College The New School for Music presented the New York City premiere of Il Postino by Daniel Catán. The opera was performed by the Mannes Opera with members of The Mannes Orchestra, conducted by Artistic Director Joseph Colaneri, and directed by Laura Alley, with costume and projection designs by students from Parsons The New School for Design.
This production marked the first time Mannes Opera will collaborated on a fully staged production with students from their university partners at Parsons. Parsons students designed costumes, props, and projections for the production which also featured lighting design by Jeff Davis and hair and makeup by Amanda Miller.
"Being part of The New School, which stands at the vanguard of interdisciplinary learning, enables students at both Mannes and Parsons to truly collaborate on all aspects of Il Postino," said Richard Kessler, Dean of Mannes College. "Working across fields to create a production like Il Postino is the ideal training for the next generation of performers and creative professionals."
"Collaborating like this with Mannes is exactly the kind of work that we're committed to doing here at Parsons," said Anne Gaines, dean of Parsons' School of Art, Media, and Technology, whose students were among the interdisciplinary group working on the production. "We want our students to engage their creativity and designs as inquirers, and take advantage of the unique collaborations that being part of a larger university like The New School affords them, and that students at other design schools don't get."
Based on the 1994 film (which itself drew from Antonio Skármeta 1985 novel Ardiente paciencia), Il Postino tells the story of Mario, a young letter carrier in a seaside village in Italy a decade after the Second World War. Mario strikes up an unlikely friendship with famed poet-philosopher Pablo Neruda, who takes up residence in the town after being exiled from his native Chile. The friendship pushes Mario to greater depths of thought and passion as he woos Beatrice, a beautiful local girl.
"Catán's last completed work gives Mannes musicians and Parsons designers a rare opportunity to introduce an acclaimed work to the New York stage – and to explore and interpret a richly realized world of ideas and emotions," said Joseph Colaneri.
Mannes College The New School for Music develops the next generation of classical musician/citizens by combining the music conservatory traditions with the cutting-edge advantage of being part of The New School, the nation's foremost progressive university. Founded in 1916, the Mannes formula for quality education has capitalized on its world-class faculty, location in the heart of the global arts capital, small class size, and a living tradition of rigor and depth that develops strong technique and great artistry. The Mannes ethos forms the basis of a vibrant community, whether you are a degree or diploma student in the College or Extension divisions, or a young person studying in Mannes Prep. In this second decade of the 21st century, when demands on artists are greater and more complex than ever, Mannes is committed to providing a wide range of exciting learning and knowledge building in partnership with its sister divisions of The New School, including one of the world's great design schools, Parsons The New School for Design; the liberal arts at Eugene Lang College; public policy, business, and civic engagement in The New Shool for Public Engagement; and cross disciplinary arts learning at The New School for Jazz and Contemporary Music and The New School for Drama. For more information on Mannes and The New School, visit http://www.newschool.edu/mannes.
Parsons The New School for Design is a global leader in design education, with programs that span the disciplines of design and the fine arts. With the launch of its fashion design program in 1906, Parsons is credited with the rise of Seventh Avenue, the epicenter of American fashion. Parsons offers a Bachelor of Fine Arts degree in Fashion Design, Associate degrees in Fashion Design and Fashion Marketing, and a Master of Fine Arts Program in Fashion Design and Society initiated through the support of Parsons alumna Donna Karan. Parsons has educated generations of leading American fashion designers, including Tom Ford, Marc Jacobs, Donna Karan, Isaac Mizrahi, Tracy Reese, Narciso Rodriguez, Anna Sui, Prabal Gurung, Derek Lam, Proenza Schouler, Vena Cava, Alexander Wang, and Jason Wu. For more information, visit http://www.newschool.edu/parsons.
Founded in 1919, The New School was born out of principles of academic freedom, tolerance, and experimentation. Committed to social engagement, The New School today remains in the vanguard of innovation in higher education, with more than 10,000 undergraduate and graduate students challenging the status quo in design and the social sciences, liberal arts, management, the arts, and media. The New School welcomes thousands of adult learners annually for continuing education courses and calendar of lectures, screenings, readings, and concerts. Through its online learning portals, research institutes, and international partnerships, The New School maintains a global presence. Learn more at http://www.newschool.edu.