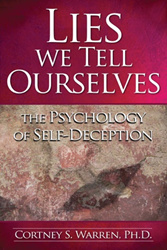 When we admit who we really are, we have the opportunity to change.
Las Vegas, NV (PRWEB) May 13, 2014
The Psychology of Self-Deception
"Humans are masters of self-deception. We don't like to think of ourselves as liars; it hurts us too much to admit. So we lie to ourselves about that, too." In her new book, "Lies We Tell Ourselves: The Psychology of Self-Deception," Dr. Warren argues that people frequently believe things that are false and refuse to believe things that are true. Drawing from some of the most prominent psychological schools of thought, including Psychodynamic, Cognitive Behavioral, Existential, and Multicultural/Feminist, Dr. Warren compellingly outlines how people lie to themselves, the profound costs of self-deception, and how to become more honest. For, as she says, "when we acknowledge who we really are, we have the opportunity to change." Written for the general public, it is truly an easy yet inspiring read!
Honest Liars: TEDxUNLV
Based on the content of her book, Dr. Warren recently gave a provocative TEDx talk titled, "Honest Liars: The Psychology of Self-Deception." At the core, Dr. Warren argues that people lie to themselves because they don't have enough psychological strength to admit the truth and deal with the consequences that will follow. In essense, "our lies reflect what we wish were true." When writing the talk, Dr. Warren described facing a serious dilemma: she couldn't ask people how they lie to themselves, because that would require them to tell the truth. Consequently, she chose to use her own romantic relationships and decision to resign from academia as examples. Watch on youtube or tedxtalks.ted.com.
Choosehonesty.com
Through her new website, choosehonesty.com, Dr. Warren's goal is to provide free content, resources, and connections to anyone who is brave enough to become more honest with themselves. In addition to providing information about self-deception and a bi-weekly blog, choosehonesty.com has many unique features. On a page titled, "My Name is ____ and I am a Recovering Liar," Dr. Warren offers people the opportunity to anonymously post their self-deceptive lies, which she argues is helpful to reduce shame and to promote continued honesty.
Cortney's Background & Education
Cortney graduated magna cum laude with a bachelors degree from Macalester College (St. Paul, Minnesota) in 2000. Funded by the American Psychological Association's Minority Fellowship Program, Cortney earned a Ph.D. in clinical psychology from Texas A&M University after completing a pre-doctoral clinical internship at McLean Hospital/Harvard Medical School. Cortney joined the faculty at the University of Nevada, Las Vegas (UNLV) in 2006; earned tenure in 2012; and resigned effective summer, 2014. The majority of Dr. Warren's research is on multiculturalism, psychotherapy, eating behavior, body image, and addictions. For more information on Cortney and her work, visit http://www.choosehonesty.com.