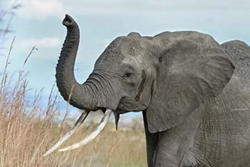 (PRWEB) May 11, 2014
A new website ElephantFacts.net has been recently published to assist those around the world who are researching elephants. The site features lots of information on elephants, and what is great is that it is potentially a one-stop resource for those getting their feet wet. The next best thing would have to be academic resources such as encyclopedias and journals.
On the website, elephant enthusiasts can hope to find facts about the two main species of elephants (Asian and African elephants) as well as various facts about them. It turns out that elephants are one of the most intelligent animals on the planet, alongside dolphins and orcas.
Additionally, many aspects of an elephant's physiology are highlighted, such as their size, teeth, tusks, and weight. Information about elephants' lifestyle such as how they are born, how they live, what they eat, where they live is available on Elephant Facts.
Topics with regards to their psychology and culture are addressed, such as their memories and how they honor and grieve for the dead. Myths are also addressed, such as whether elephants are afraid of mice or not. Symbolisms of elephants in human society and religion are also highlighted; an example of which is a discussion of the elephant factor of the Hindu god Ganesha, also known as Ganapati.
The creator explained to us, "We have interests in all animals around the world. In particular, we feel that elephants are often not given enough credit. They are intelligent and can be such benevolent animals. Wish to spread this awareness about them and to educate the public more about them."
The publishers has had success with many projects, including fact based sites about wolves, giraffes, and pandas. "Today we are challenged with climate change, dwindling resources, and possible permanent damage to the planet. We are the cause of many species becoming endangered. We wish to spread this awareness to the public and teach people about the wonders of some of the greatest animals this planet has ever seen that may never be seen again if we do not change our ways."
One of the biggest contributions to the endangerment of elephants is the large scale poaching of them for their tusks and ivories. Ivory hunters are known to slaughter elephants senselessly. Ivory can be sold as materials for piano keys and billiard balls, items of which are in their own ways luxurious and necessary of which the cost is the lives of otherwise wonderful and intelligent creatures.
For those seeking information on elephants, ElephantFacts.net aims to become the best resource about elephants on the web.