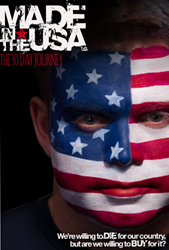 To see a cause you're passionate about get the attention of millions across the country is a dream come true.
(PRWEB) May 10, 2014
Documentary film producer Josh Miller is pleased to announce the 90-minute feature "Made in the USA: The 30 Day Journey," which has received coverage on CNN.com, will air on May 24, 2014, on channel 82 of the DISH Network's Family Entertainment Television program. Produced by Made in the USA Films, this movie explores a small town's demise after the close of a manufacturing plant and the rise of a new generation of consumers bent on changing America's buying habits.
Josh Miller states: "Our recent deal with Family Entertainment Television is a huge leap forward for the Made in America Movement and our film in general. To see a cause you're passionate about get the attention of millions across the country is a dream come true. I want the American people to know I hear their voices and I will continue to fight for them every day."
Miller sees the success of "Made in the USA" as a launching point for similarly themed content that will be distributed in mini-series and online video formats. "What inspired me to take this journey and create this film was the closing of Century Aluminum plant in my hometown," says Miller, whose father-in-law lost his job along with 650 other workers during the closing. "I wanted other people to see the affect something like this has on a small community. I felt they needed a voice."
According to the Bureau of Labor Statistics, West Virginia lost 29,716 manufacturing jobs between 1994 and 2012. In the film, everyday people are asked if "Made in the USA" means anything to them, and if not, what does that mean for the future of the country?
Viewers of the documentary follow Miller for 30 days, as he uses products that are "Made in the USA", not just assembled or designed, but actually made in America -- and the task pushed him to the brink. But why? In a land of plentiful resources, why is finding Made in the USA labels so difficult?
At just 27 years old, Josh Miller is part of a new generation of benevolent thinkers willing to take on national issues from a grassroots level with complete confidence that their actions will make a difference. Miller has a psychology degree from West Virginia State University and played independent professional baseball after college. He sacrificed time with his new wife, and starting a family to get this message made and heard.