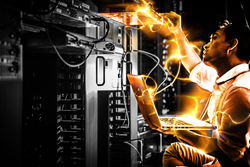 New Orleans, Louisiana (PRWEB) May 12, 2014
Metaswitch Networks is thrilled to welcome its service provider customers and vendor partners to Metaswitch Forum 2014.
Themed "The Brains of the New Global Network," Metaswitch Forum continues through May 15 here at the Hyatt Regency New Orleans. The annual Metaswitch Forum brings together communication service providers, technology vendors and expert speakers from around the world for three days of discussions on innovative products, industry trends and best practices on network transformation, cloud computing and the rise of software telcos.
Here's what you need to know today:

The registration desk opened today at 7:00 a.m. and will remain open until 9:00 p.m. this evening. The registration desk is located in the Elite Foyer, Level 1.
Beginning at 2:00 p.m., our pre-conference workshop will focus on what is top of mind for many network operators: hosted business services.
At 6:00 p.m., please join your fellow Metaswitch Forum attendees at the Hyatt Regency New Orleans Empire Ballroom Foyer for drinks and heavy hors d'oeuvres as we officially kick off the big show with our Welcome Reception.
Breakfast begins at 7:00 a.m. Tuesday morning in Elite Hall A, and our opening session starts promptly at 8:00 a.m. in the Empire Ballroom. Don't miss it!