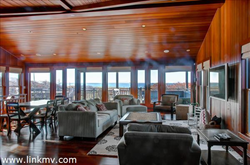 I walked in the front door and immediately felt I had entered another reality.
Aquinnah, Martha's Vineyard, MA (PRWEB) May 27, 2014
Breathtaking is a word that gets thrown around quite a bit when describing luxury waterfront properties on Martha's Vineyard. On a small island with a population of 15,000 and a hundred miles of ocean shore, the possibilities for that description are endless. Of the hundreds, and possibly thousands, of waterview homes when searching Martha's Vineyard Real Estate, one new listing seems to stand out from all the others and, all things considered, with the reasonable price tag of $3,200,000.
One of the listing brokers, Richard Rooney, describes the property as "arguably, the most extensively crafted and well prepared property along the entire length of Moshup Trail." Completely private with ocean-views and expansive lawns, an idyllic brook on one side and abutting Land Bank conservation on the other. Of course, you cross the road to your own private beach access.
House features include remarkable craftsmanship incorporating exotic woods for walls, doors, trims and ceilings; en-suite baths for every bedroom; stainless, stone and tile features throughout the kitchen and baths; extensive heating, cooling and fuel storage systems for the customized home spa including indoor steam room, hot tub and sauna;detached bedroom w/bath in separate guest structure; additional 3-bay garage for up to 6 cars; extensive irrigation and landscaping, full-home capacity back-up generator.
Walking in the front door gives the feeling of entering another reality. Describing the materials, design, and 180 degree water views just does not do it justice. Standing in this home and taking in all its features is the only way to understand the value at hand for your next "beach house".
MV Buyer Agents is your trusted partner in real estate. As Exclusive Buyer Agents representing buyers only for second home and investment property.