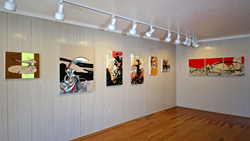 Greenport, NY (PRWEB) May 12, 2014
The artist describes his recent work as "an exploration of dualities: East and West, traditional and digital, abstraction and figuration."
Colin Goldberg was born in the Bronx, NY in 1971 to parents of Japanese and Jewish ancestry. His unique style integrates traditional drawing and painting techniques with large-format digital printing and computer graphics. The artist holds a BA in studio art from Binghamton University and a MFA from Bowling Green State University in Ohio.
The works in this exhibition were partially funded by a grant the artist received from the Pollock-Krasner Foundation. Last year Goldberg also received funding from The New York State Council on the Arts, and this spring he was awarded a month-long residency at The Studios of Key West, scheduled for 2015.
Goldberg's paintings have been exhibited at the Manhattan Armory, the Parrish Art Museum in Southampton NY and at galleries and art fairs across the United States including artMRKT Hamptons and Fountain Miami. His artwork was recently published in The New York Times and resides in numerous collections, including the permanent collection of the Pollock-Krasner House and Study Center in Springs NY, the former home and studio of painters Jackson Pollock and Lee Krasner.
Helen Harrison, director of the Pollock-Krasner House, comments, "Like Goldberg's, Pollock's path to an individual creative language involved a synthesis of past and present, taking from each what was appropriate for his purposes."
The artist currently lives and works in Greenport Village, New York with his wife Donna.
"North Fork Modernism" runs from May 2nd-May 26th. There is a public reception with the artist present on May 24th, from 5-7 PM, at the South Street Gallery, 18 South Street, Greenport, New York.
Gallery Hours are Friday-Monday, 12-5 PM. More information on the exhibition is available online at http://www.thesouthstreetgallery.com.