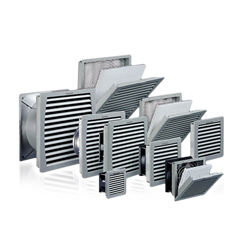 New filter fans from EIC Solutions may be used anywhere filtered ambient air will provide sufficient cooling to maintain equipment at a safe operating temperature.
Warminster, PA (PRWEB) May 15, 2014
EIC Solutions, Inc., a leading manufacturer of thermoelectric air conditioners, electronic enclosures and transit cases, has introduced a line of filter fans which provide an effective, economical method for removing unwanted heat from electrical/electronic enclosures and cabinets. The VFF Series Filter Fans provide forced convection cooling for computers, power distribution equipment, industrial automation controls, food and beverage process controls, telecom communication and other electrical and electronic devices housed in enclosures. The fans may be used anywhere; filtered ambient air will provide sufficient cooling to maintain the equipment at a safe temperature.
Electrical and electronic equipment mounted inside a cabinet generate heat that raises the temperature inside the enclosure. Over time, the ever increasing heat can cause sensitive devices to malfunction or fail. Additionally, heat accumulation can cause circuit breakers to trip which can result in system shut down. To assure operational reliability and a long service life for enclosed electrical/electronic systems, it is necessary to dissipate the heat building up inside the enclosure.
EIC Filter fans will cool enclosures to a level slightly above the ambient temperature outside the cabinet. To cool enclosure contents, the fans draw filtered ambient air into the cabinet. At the same time, the heated air within the cabinet is blown out an exhaust. The exhaust is also filtered which creates airflow resistance and a slightly higher pressure inside the enclosure. The cool, dense, pressurized filtered air in the cabinet not only maintains a safe operating temperature, but also prevents dust and other particulate contaminants from entering the enclosure through any unsealed openings.
The fans are designed with airflow optimized fins and rotor blades to assure maximum airflow and low energy consumption. Intake filters are designed with multiple flutes which maximize filter surface area thus capturing and filtering more air. Utilizing a durable ball bearing design, the fans are quiet and long lasting and provide from 11 to 368 CFM of airflow. The extremely flat profile minimizes the protrusion of the fan housing from the surface of the enclosure wall. VFF Series Filter Fans are available in a wide range of configurations for both indoor and outdoor use.
Durable, rugged injection molded, thermoplastic construction is standard. Depending on the model used, EIC filter fans will maintain NEMA ratings of 12, 3R or 4. An optional stainless steel rain shroud is available for NEMA 4X installations. The fans are designed to mount on side of enclosures and have power options of either 24 VDC or 115/230/460 VAC. EIC application specialists can help in selecting the correct fan for specific applications.
For more information, please contact EIC Solutions, Inc., 700 Veterans Way Ste. 200, Warminster, PA 18974 USA. Phone: 215-443-5190. Fax: 215-443-9564.
email: info(at)eicsolutions(dot)com Web site: at http://www.eicsolutions.com.
###
About EIC Solutions, Inc.
EIC Solutions, Inc., is a leading global provider of cooling and protection solutions for electronics and equipment. Since 1988, EIC has specialized in the design and manufacture of thermoelectric cooling systems for a wide range of applications in many markets including industrial, commercial, military and defense, security and surveillance, oil and gas and infrastructure markets. EIC thermoelectric air conditioners, air conditioned enclosures and air conditioned transit cases meet application requirements for housing and cooling electronics and equipment -- both stationary and mobile -- in harsh indoor as well as outdoor environments. In addition to pre-packaged solutions, EIC can create custom engineered products designed to meet unique application needs. Flexible production capabilities enable EIC to provide standard and custom solutions for orders ranging from a single piece up to large-scale production rollouts. EIC's customers include Fortune 100 companies, all branches of the military and government agencies.