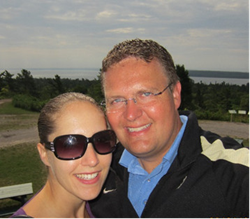 Possibly the best thing this has done is built my confidence in my abilities
Cleveland, OH (PRWEB) May 12, 2014
Equity Trust, a leading provider of self-directed IRAs, is thrilled to introduce John Gremling as the winner of its 2013 Self-Directed Investor of the Year contest. John, a resident of Indianapolis, made the deal of a lifetime when he acquired an apartment building at an auction.
John stood out among nearly 150 entrants, clients who shared high-profit or unique investments that they've completed using IRA money. These deals are possible through a self-directed IRA, which is only available through custodians such as Equity Trust.
As the grand-prize winner, John will have his Equity Trust IRA's annual fee waived (up to $450 per year) and will be a special guest at the 2014 Equity University Wealth Building Summit, an annual investing education and networking event hosted by the education arm of Equity Trust. John will share his secrets to success at the Summit as well as during an exclusive webinar at 9 p.m. ET on Thursday May 15, 2014.
In the life span of retirement planning, John Gremling is a relative youngster, but he's likely years ahead of many retirement investors older than he when it comes to building a financial future. At 31 years old, he's showing how much an investor without decades of self-directed investment experience under his belt can accomplish.
John has illustrated why "I'm too young" or "I don't have enough money to invest" are not valid excuses for not using a self-directed IRA. He acquired the 12-unit apartment building, which carried delinquent taxes, at a city sale for a grand total of $3,500. This particular deal brought additional legal costs in the process of acquiring it from the former owner, in addition to the cost of rehab work.
Eleven of the building's 12 units are now occupied by low-income tenants, with steady rent income of $3,000 to $4,000 flowing back to his account each month. The building is worth $300,000, he says, and with the income, he'll be in the black on the deal within a couple of years. John estimates the investment is netting him a 200-percent-plus profit after legal costs.
"Possibly the best thing this has done is built my confidence in my abilities," John says.
In addition to boosting John's retirement account, the investment has benefitted the community as well. John works with an organization that helps pair homeless veterans with a place to live. John's property has housed three vets so far, and he's working with the group to place two more.
Get more details and register for the "Secrets of the Self-Directed Investor of the Year" webinar.
About Equity Trust Company
Equity Trust Company, with its corporate headquarters in Greater Cleveland, Ohio and operations in Sioux Falls, South Dakota, is at the forefront of the self-directed retirement plan industry. The Company specializes in the custody of alternative assets in self-directed IRAs, Coverdell Education Accounts, Health Savings Accounts and qualified business retirement plans. Along with its affiliates, Equity Trust Company provides services to more than 130,000 individuals and businesses nationwide with $12 billion in assets under custody. Since 1974, the company and its affiliates have helped investors make tax-deferred or tax-free profits through education, innovation, and a commitment to understanding individual needs. Visit https://www.TrustETC.com for more information.