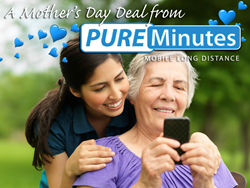 For a limited time all new users that sign up for PureMinutes will receive an extra 30% value to their top-up!
Los Angeles, CA (PRWEB) May 10, 2014
Mother's Day sees the highest call volumes of the year according to a survey conducted by the (Pew Research Center). The study compared long distance phone call usage from 1989 to today and found a 14% jump in adults who maintained daily contact with a parent or parents. Among adults the Pew survey found that mother's sit comfortably in the epicenter of the families' communication network with people much more likely to maintain contact with Mom (61%) rather than Dad (18%) and the remainder maintaining equal contact with both.
For those looking for a way to show Mom just how special she is, (PureMinutes) offers a way to call her not only on Mother's Day but any day of the year without breaking the budget. With PURE Minutes everyone can save on international long-distance and it's as easy as picking up a phone. The service provides a low-cost international calling alternative that works with any phone number. The flexibility of the program means one can enjoy the benefit of low international rates without needing to change their current landline or mobile provider.
For a limited time all new users that sign up for PureMinutes will receive an extra 30% value to their top-up by visiting the (Pure Minutes Mother's Day Promotional Page). A $10 top up will become $13 worth of credit! Be sure to share the deal with friends.
For those with mothers overseas the perfect way to show appreciation and how much she is loved is by picking up the phone. Greeting cards and gifts certainly provide some level of personalization and creativity but there's absolutely no substitute for hearing a families voice on this special occasion. Pure Minutes delivers the lowest international rates on the market so no one ever has to watch the clock again.
We celebrate her on different dates around the world this year, but the one thing that won't change is the love of a child for their dearest mother.
Worldwide dates for Mother's Day
February 9, 2014: Norway
March 3, 2014: Georgia
March 8, 2014: Afghanistan, Armenia, Azerbaijan, Belarus, Bosnia and Herzegovina, Bulgaria, Laos, Montenegro, Serbia, Ukraine
March 30, 2014: United Kingdom, Ireland, Nigeria, Bangladesh
March 21, 2014: Egypt, Jordan, Kuwait, Lebanon, Palestinian Territories, Syria, United Arab Emirates, Yemen
March 25, 2014: Slovenia
April 7, 2014: Armenia
May 4, 2014: Hungary, Lithuania, Portugal, Spain, Mozambique
May 8, 2014: South Korea
May 10, 2014: El Salvador, Guatemala, Mexico, Belize
May 11, 2014: Anguilla, Aruba, Australia, Austria, Bahamas, Bangladesh, Barbados, Belgium, Belize, Bermuda, Bonaire, Brazil, Canada, Chile, China, Colombia, Croatia, Cuba, Curaasao, Czech Republic, Denmark, Ecuador, Estonia, Finland, Germany, Greece, Grenada, Honduras, Hong Kong, Iceland, India, Italy, Jamaica, Japan, Latvia, Malaysia, Malta, New Zealand, Peru, Philippines, Puerto Rico, Singapore, Slovakia, South Africa, Suriname, Switzerland, Taiwan, The Netherlands, Trinidad and Tobago, Turkey, United States, Uruguay, Venezuela, Zimbabwe
May 15, 2014: Paraguay
May 26, 2014: Poland
May 25, 2014: Algeria, Dominican Republic, France, Haiti, Mauritius, Morocco, Sweden, Tunisia
May 30, 2014: Nicaragua
June 1, 2014: Mongolia
June 8, 2014: Luxembourg
June 29, 2014: Kenya
August 12, 2014: Thailand
August 15, 2014: Costa Rica, Antwerp (Belgium)
October 13, 2014: Malawi
October 14, 2014: Belarus
October 19, 2014: Argentina
November 30, 2014: Russia
December 8, 2014: Panamá
December 22, 2014: Indonesia
To learn more about Pure Minutes and our amazing low rates visit the website at (http://www.PureMinutes.com) and get up to 60 free minutes for first time customers. Pure Minutes provides a low-cost international calling solution that works with any phone number, regardless of the current provider. This means that a user can enjoy the benefits of low international rates without needing to change their current landline or mobile cell phone service provider. Subscribed callers simply dial a local access number and through modern "Automatic Caller Identification" software we can recognize a subscribed caller making the need for complicated PIN codes a thing of the past.
The PURE Minutes difference

No Hidden Fees
No Connection Fees
No Maintenance Fees
Real Minute Rounding
No Contract Required
Minutes Never Expire
Low International Rates
Reliable, Clear Quality
About Pure Minutes
Pure Minutes is a leading provider of prepaid international long-distance calling solutions. We provide an affordable communication solution that offers flexibility, portability and ease-of-use for both landline and mobile users. Pure Minutes offers competitive international calling worldwide with no hidden fees, no maintenance fees, no contract required, and minutes that never expire. Pure Minutes service is sold on the web and through regional and national retailers including MoneyGram, La Nacional and payXchange and is available to customers worldwide in English and in Spanish and accepts payments through all major credit cards and Paypal.
Follow us on Twitter (@PUREMinutes) and Facebook (facebook.com/PUREMinutes) for up to the minute updates.
###