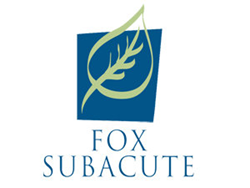 "As the care needs of the ALS patient grows, although taking care of them at home is an option, a subacute facility offers the caregivers peace of mind that their family member is cared for..." -Dr. Erik Soiferman, Chief Medical Officer, Fox Subacute
Plymouth Meeeting, PA (PRWEB) May 10, 2014
On Monday, May 19th, Fox Subacute, the leader in ventilator and trach collar dependent patient care is sponsoring the Phillies Phestival at Citizens Bank Park. Join Fox Subacute in support of ALS. The gates open at 4:30pm and it runs till 7-8pm. Approximately 7,000 people will be in attendance. There will be photo booths with the players and they will be signing autographs. The entertainment is set up in a carnival themed atmosphere. Some of the activities allow fans to warm up in the Phillies Bullpen, a meet and greet, a silent auction, and bags available for purchase filled with Phillies memorabilia.
ALS Patient Care Burdens May Be Lessened with the Aid of Subacute Facility
It is no secret that caring for a loved one with ALS can take its toll on the bodies, hearts and minds of family members. That's partially why an increasing number of families forced to deal with an ALS diagnosis are seeking outside assistance. By working with others to provide ALS patient care, family members can focus more on enjoying their time together rather than handling day-to-day details like grooming and toileting.
Managed care or subacute facilities that offer families and their ALS afflicted loved ones access to onsite ventilator programs are one of the best options in that regard. That's because they provide the critical healthcare services needed to help ALS patients maintain a high quality of life, for as long as possible, without having to change locations as the disease progresses.
"A degenerative neurologic disease with no cure, a diagnosis of ALS affects people on multiple levels. It varies in its progression and timeframe, and each patient is different. Ultimately, as the disease progresses, patients need more and more care, physically, mentally, and emotionally, and so do their caregivers. As their care needs grow, although taking care of them at home is an option, a subacute facility with trained personnel offers the caregivers peace of mind that their family member is cared for so that they can focus on quality time, and take time for themselves as well, which is something many family members either forget to do, or feel guilty about doing," explains Dr. Erik Soiferman, Chief Medical Officer, Fox Subacute.
For instance, patients may reach a point where they will need speech therapy, thickened liquids, pureed diets, bolus feedings and dietary supplements to remain healthy. A subacute facility typically provides ALS patients with such services as speech therapy, special diets and feeding tube care. The facility's skilled staff members are also adept at providing patients with respiratory therapy, incontinence care, and wound care, as needed.
Depending on the facility's programs, additional caregiver support may be available either onsite or by the way of outside referrals. Examples of additional ALS patient care support that may be needed by caregivers or family members are grief counseling, healthcare related education, temporary respite and referrals for the treatment of caregiver related depression.
In some instances, families coping with an ALS diagnosis may be able to secure a private room for their family member. Private rooms tend to be an excellent choice if the family feels that their loved one will not feel comfortable rooming with a stranger. Other families may opt to choose one of the subacute facility's semi-private rooms in the hopes that their loved ones will benefit from the added social interaction.
Some of the best facilities are those that view patients as residents, as if it were a home-like setting. The medical and nursing staff, respiratory care, dietary staff, social workers, and therapists (OT, PT, SLP, etc.) all have a high level of respect and care for those afflicted with ALS. They build strong bonds with residents and enhance their quality of life significantly.
To learn more about the benefits of receiving ALS patient care through a subacute facility, please contact Fox Subacute or call 610-828-2272. With three locations in Pennsylvania, and a staff well versed in providing round-the-clock, ALS patient care, Fox Subacute is the leader in respiratory patient care. Schedule a tour and speak with staff to review any questions you may have.