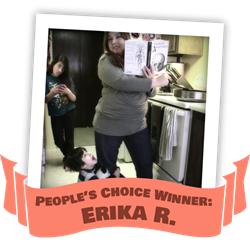 The Everyday Chaos of Motherhood
Anchorage, AK (PRWEB) May 11, 2014
Erika Ruiz from the Charter College Lynnwood campus won the Charter College Mother's Day Photo Contest by receiving more than 500 votes! The contest was a huge success. More than 80 people submitted photos and captions explaining how motherhood has had a positive impact on their decision to pursue their education. As top vote-getter, Erika won an iPad. Her photo submission offered a glimpse into the chaos of combining motherhood with school, work and an active home life. Erika wrote that she strives to show her children "that if they work hard, they can achieve their dreams."
The contest generated more than 2200 votes. Students, graduates and community members submitted pictures of their mothers, grandmothers, aunts and their own children in a wide celebration of all that's great about motherhood. They gave thanks for the wonderful women in their lives and talked about how the role of motherhood has impacted their lives and their decision to pursue higher education. Moms and even soon-to-be mothers described how important they feel it is to be good role models to their children –and how their Charter College education is has helped them do just that.
Submissions to the Charter College Mother's Day Contest were accepted came from April 14th – 28th and came from Charter College campuses across California, Washington and Alaska through Instagram, Twitter and the Charter College page on Facebook. Voting went live on May 1st and ended on May 8th, just in time for Mother's Day.
Votes were also tabulated to determine campus winners. The winners of $100 gift cards were:

Tanell D. — Anchorage Campus
Kaylyn H. — Bellingham Campus
Nikki P. — Canyon Country Campus
Crystal S. — Fife Campus
Angelica V. — Lancaster Campus
Diana S. — Long Beach Campus
Samira M. — Lynnwood Campus
Lisa C. — Oxnard Campus
Esmeralda M. — Pasco Campus
Tiffany K. — Vancouver Campus
Wynter W. — Wasilla Campus
All submissions can still be viewed on the Charter College Page on Facebook.
Charter College offers career-focused education in the fields of health care, business, law, criminal justice, information technology, and some trade careers. The school has campuses throughout California, Alaska, and Washington State. To learn more about the programs offered at Charter College, please visit http://www.chartercollege.edu/ or call 800-200-9942.