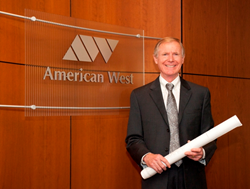 "Not only did my childhood dream come true but I also get to help fulfill the dream of a new home for the families of Las Vegas."
Las Vegas, NV (PRWEB) May 13, 2014
Larry Canarelli, company founder of American West Homes in Las Vegas, Nevada was recently honored with a Lifetime Achievement Award at the Silver Nugget Awards ceremony. The award was presented to him by Steve Schorr, vice president of marketing for the Las Vegas Review-Journal who first met Larry back in 1979. Schorr said the Silver Nugget's Lifetime Achievement Award "honors those who have given so much to their industry".
Larry has had the dream of building homes since he was a young child living in a tent by a river in Northern California. The tent burned. "At one point", he said, "we lived in a migrant worker shack on a dairy farm in the San Joaquin Valley of Central California and took Saturday night showers with a hose used to wet down the cows. All my life I wanted to live in a nice home." As a fourth-grader Larry found a classified ad in the local newspaper for a house for sale. He presented it to his parents. They accepted his proposal and used his mom's tip money from her waitress job as a down payment. Finally, the family had their own home.
As an older child, Canarelli, said he used to love to flip through his grandmother's coffee table book filled with photographs of California mansions.
It's those experiences, he said, that have driven his career of more than 40 years in the homebuilding industry.
"I work for the enjoyment of work," he said, over the thunder of applause, as he received the award. "Not only did my childhood dream come true but I also get to help fulfill the dream of a new home for the families of Las Vegas."
Larry and his family moved to the Las Vegas Valley in the mid-1970's. While working for Metropolitan Homes, he helped build Green Valley, one of the first master-planned communities in the valley. Since opening his own company, American West Homes in 1984, Canarelli has continued to develop some of the most well known communities in the Las Vegas valley such as: Whitney Ranch, The Lakes, El Capitan Ranch, Silverado Ranch, Coronado Ranch and Highlands Ranch. Under his leadership, American West has built more than 100 new home communities and more than 16,000 homes.
Larry Canarelli and his company has garnered over 200 national and local awards for design and construction excellence. American West is the only builder in the nation to have been awarded the industry's most coveted ACE (Award for Construction Excellence) honor twice which honors the best homebuilder in the nation. Larry was president of the Southern Nevada Home Builders Association in 1987 and in 2010 was honored by SNHBA as a pioneer in the Southern Nevada homebuilding industry. He has also been recognized by NAHB as one of "10 Legends of National Housing".
Unlike many national, public-owned homebuilders, the staff and leaders of American West are here in Las Vegas. Larry and his wife Heidi have raised all four of their children in Las Vegas. The family, including 11 grandchildren, continue to live in Las Vegas. Being the owner of a private, local company, both Larry and Heidi have always believed strongly about giving back to the city where they live. They and American West are heavily involved in many philanthropic endeavors. "Las Vegas is our city, we love it and have loved being a part of its tremendous growth," said Canarelli. Larry and Heidi's commitment to this incredible city was never more evident than with the naming of the Larry and Heidi Canarelli Middle School in Coronado Ranch.
American West is currently selling at 8 new home communities located throughout the Las Vegas Valley with new home designs ranging from 1,608 to 4,770 square feet. For more information, visit http://www.AmericanWestHomes.com