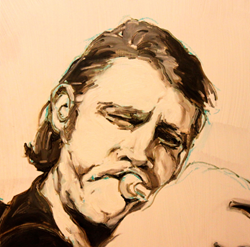 Rhinebeck, New York (PRWEB) May 28, 2014
Thomas Cale, artist of Rhinebeck, New York, has announced details of the Blue Notes Art Show, scheduled to open with a reception on Friday, June 27th, 2014, from 6-9pm at the Church of the Messiah Parish Hall, located on Montgomery Street in Rhinebeck, New York. (Hall is located behind the church on the same grounds). This collection of paintings is dedicated to honoring iconic figures who have brought jazz music to the masses through the years. The show is inspired by greats like Sonny Rollins, Louis Armstrong, Chet Baker, and Charlie Parker, among others.
Artist Thomas Cale says of the series, "My recent exploration of jazz has opened up an entirely new world of art and music that I hadn't been completely familiar with or open to previously. Each new artist, album, and song that I experienced sparked energy and excitement that I felt inspired to share. The music and the musicians have greatly influenced my approach to the artwork in this show. My hope is that the viewer will see and feel this emotion, and somehow share in the excitement of recognizing these truly remarkable artists or, even better, that I managed to capture some of their notes on my canvas."
Following the opening reception on June 27th, the Blue Notes show will be open through that weekend. The reception is free of charge and open to the public.
For more information, visit caleartworks.com or call 845.750.5808.