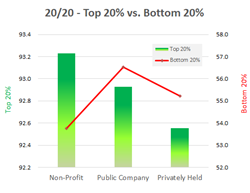 How well does your organization execute? Now we have an easy index to gauge and benchmark business execution.
Cedar Grove, NJ (PRWEB) May 12, 2014
PMO Advisory (http://www.pmoadvisory.com), a management consulting firm that helps organizations bridging the gap between ideas to execution, today announced the release of the first ever Business ExecutionIndex™ (Ei). This is an organization-wide barometer that reveals how well firms execute against their business strategy. The Business ExecutionIndex is based on a dozen major factors with over attributes used to measure business execution quality against strategy.
The Business ExecutionIndex™ is based on a research survey with over 500 executives representing organizations of various sizes and revenue across multiple industries, including private businesses, public companies, non-profit organizations, NGOs, and government agencies. The index was created as part of PMO Advisory's ongoing commitment to provide practical and applicable business research in order to develop new tools processes, and insights of how clients can improve their organizations' execution.
There are some surprise findings. For example, the best of non-profits "out-executes" all other organizations, including large public companies. Yet, most of the non-profits executes significantly below the average. Also, research shows that only 10 of respondents are very satisfied with their organization's ability to achieve their strategic objectives. Too frequently, companies fail to get things done to build their business, and the true status of major initiatives is obscured by inefficient business processes and inaccurate information. In order to succeed, corporate leadership needs to have better visibility into business execution in order to accelerate success. The Business ExecutionIndex was designed as an easy-to-use benchmark that can rapidly compare organizations across sizes, types, and industries.
"By measuring where organizations succeed and fail in execution, we can provide senior management with the insight they need to address execution issues before they become failures," said Te Wu, founder and CEO of PMO Advisory. "The Business ExecutionIndex is the first effort to quantify common areas where business execution flounders and provide actionable insight to help organizations implement more successful strategies."
The Business ExecutionIndex is an ongoing research project and updated results and new findings will be published quarterly. The executive summary is free to all; visit us at http://www.pmoadvisory.com/live/strategicbusinessexecution/sbe_download/. The detailed survey findings is available free to all survey participants as well as customized comparisons of their organization's performance against the study's aggregate results.
For more information about the Business ExecutionIndex, please visit http://www.pmoadvisory.com/live/strategicbusinessexecution/sbe_research/ or go to http://www.surveymonkey.com/s/sbe01 to participate in the survey and receive the detailed report.
About PMO Advisory
PMO Advisory is a socially minded management advisory firm with expertise in business and IT execution, serving as a resource to help enable ideas for organizations. PMO Advisory helps transform business ideas, plans, objectives and vision into reality using a proven, customizable consulting approach. The firm's advisory team is expert in program and project leadership, process improvement, business transformation, and data analysis and visualization. The company's goal is to enhance executive decision-making and promote business transformation.
For more information, visit PMO Advisory on the web at http://www.pmoadvisory.com.