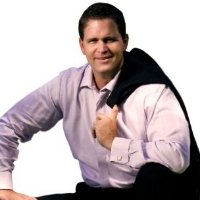 Steve Clark taught me, there are two types of sales in the world - the easy ones, and those you don't get.
Temecula, CA (PRWEB) May 23, 2014
Since 1997, Wes Schaeffer has sold everything from life insurance to securities to mobile homes to high-tech high-dollar telecommunication equipment with clients that included Google, Dell, and Twitter. In fact, he left a sales job and a six-figure income to concentrate on building The Sales Whisperer®. One more thing; he did this with a family of six children, a wife, a mortgage, and a big, hungry dog. He had to learn how to close deals and sell things in a hurry! Sell he did.
Schaeffer considers sales his calling in life. Teaching other entrepreneurs and sales people how he does it is his passion. He is the author of two books, one being "The Definitive Guide to Infusionsoft," now referred to in the trade as "the big book." Along the way, he has created several sales training tools to help fellow sales people including his ever popular cd "The 7 Deadly Sins of Selling."
Schaeffer says, "Steve Clark taught me, there are two types of sales in the world - the easy ones, and those you don't get." He is now debuting "The Art of the Close" in mid-June. This seven-week, seven-call series will only be available to a limited number of people. "I'm limiting it for a couple of reasons, namely, the new recording service I'm testing only holds 50, and since I haven't taught this class virtually before, I want to limit the size as I perfect it. But that's also why it's half the price I'll charge the next go 'round in the Fall."
The Art of the Close will truly be an interactive virtual sales learning and education course with no fluff, just the gems I have learned from studying how some of the world's most successful sales people do what they do." For more information or to enroll, go to http://www.theartoftheclose.guru.
About The Sales Whisperer®
Wes Schaeffer is The Sales Whisperer®, a sales and marketing industry leader, speaker, and author who works with and specializes on the Infusionsoft sales and marketing automation platform. He and his Infusionsoft Certified Consultants at The Sales Whisperer® can provide copywriting, educate and train clients on sales and marketing practices, social media marketing, CRM, SEO and SEM usages, and more.
Visit http://www.thesaleswhisperer.com to learn more about the company, and discover how it can help your business grow.