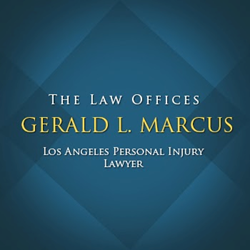 Calabasas, CA (PRWEB) May 09, 2014
The Law Offices of Gerald L. Marcus has recently added some new skilled professionals to its team. Attorneys Vincent Consolo, Michael D. Margolin, and Janice Seller joined the firm as litigators who serve as Associate Counsel. David Lucado is an important team member who works as a case investigator.
Each of these new additions brings important value to The Law Offices of Gerald L. Marcus. David Lucado, who started at the firm as a part-time field investigator, often serves as the first person to meet with clients after they have discussed their personal injury matters with Attorney Marcus. David Lucado's job is to analyze various factors related to the case, such as liability, collectability and damages.
Attorney Seller, who joined the firm last year, uses her experience as an insurance defense lawyer to analyze cases from a defense angle and to draft effective demand letters that are sent to insurers. Another part of her role includes making appearances at hearing and depositions.
Attorney Consolo, who joined the team in January 2014, also has valuable experience serving on the defense within the arena of civil litigation. Prior to joining Attorney Marcus' firm, he spent seven years providing legal defense to corporations in civil disputes (particularly business and tort disputes). Attorney Consolo now uses his in-depth knowledge of the defense side of civil litigation to provide more cutting-edge legal representation to plaintiffs in personal injury and tort cases.
Attorney Margolin officially joined the firm in February 2014, and has been practicing law for more than a decade. Mr. Margolin was selected for inclusion in the Super Lawyers® Rising Stars℠ list for the years of 2011 and 2012. Only up to 2.5% of attorneys in each state are selected for this outstanding honor. Rising Stars℠ listing honors exceptional lawyers who are at or below the age of 40, or who have 10 years of experience or less practicing law.
The Law Offices of Gerald L. Marcus is equipped with a full team of Los Angeles personal attorneys, investigators, case managers, paralegals and other support staff. The firm's lawyers have handled thousands of cases and have been successful in recovering millions of dollars in personal injury settlements and verdicts. The firm has offices in throughout the Los Angeles area and in Ventura County and the San Fernando Valley. The Law Offices of Gerald L. Marcus is dedicated to helping injury victims secure the compensation they truly deserve. For more information about the firm, visit http://www.geraldmarcuslaw.com.