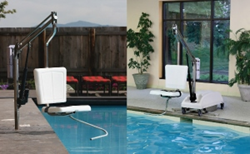 Missouola, MT (PRWEB) May 12, 2014
To date, there have been several lawsuits filed against hotels in violation of ADA pool lift regulations, and on March 28, 2014, the Department of Justice increased the maximum civil penalty for first time violations from $55,000 to $75,000; subsequent violations are $150,000 (http://www.ada.gov/civil_penalties_2014.htm). Even though pool lift regulations became effective more than one year ago, it is not too late to minimize liabilities associated with missing this deadline.
Hotel owners, school facilities, health spas, and any other facility with a public pool are encouraged to contact a representative from Spectrum Aquatics to avoid these fines. Spectrum is currently offering special pricing on all models of ADA compliant pool lifts in an effort to encourage compliance for hotels, motels, and other pool facilities. Many of their lifts are available at $250 - $750 off the original price. Products must be ordered and shipped by Friday, June 27th, 2014, and an additional $2000 savings is offered for bulk lift orders exceeding $50,000 (not including parts and accessories). Spectrum can offer extended payment or credit terms up to 90 days, depending upon your needs.
If you have a lift from another manufacturer that does not meet your needs or expectations in any way, please call us to discuss replacement options. Spectrum lifts can be retrofitted into existing anchors, including those made by other manufacturers.
Experts are available to answer questions on what style of lift would work best with both pool type and budget. Spectrum has 7-day technical service personnel in place from 8AM – 5PM mountain time (1-800-791-8056; Direct: 1-406-493-8131) specifically to address lift operation questions, as well as a highly competitive warranty program. Please phone 800.791.8056 or visit our website at http://www.spectrumproducts.com for more information on our lifts and other aquatics products.
About Spectrum Aquatics®
Spectrum Aquatics is a leader in the aquatics industry and has been committed to the development of high-quality competitive swim and commercial aquatics equipment for the past 40 years. The company is headquartered in Missoula, MT and is a division of PlayCore. More information is available about Spectrum Aquatics at http://www.spectrumproducts.com.
About PlayCore®
PlayCore helps build stronger communities around the world by advancing play through research, programs, and partnerships. The company infuses this learning into their complete family of brands. PlayCore combines best in class planning and education programs with the most comprehensive array of recreation products available to create solutions that match the unique needs of each community we serve. More information is available about PlayCore at http://www.playcore.com.
###