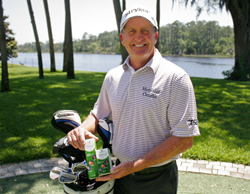 NOXICARE is always in my golf bag!
Washington, DC (PRWEB) May 10, 2014
Fred Funk--sponsored by NOXICARE, a Truceuticals, LLC ® natural pain reliever, predicts that Adam Scott will take home the winner's share at this weekend's PGA Player's Championship. Funk, an eight-time PGA champion, knows what it takes to master the TPC (Tournament Players Club) Sawgrass course in Ponte Vedra, Florida. He won the event there in 2005, at age 48 the oldest to do so, and that's just what he thinks Scott's going to do this year.
"The common denominator on this course is really ball control," says Funk, a Maryland native.
Scott is a 14 to 1 shot to wind up on top of the leader board, just behind Rory McIlroy, who's given a 12 to 1 chance of owning the prestigious tournament with its $10 million purse—the richest in golf.
"Scott's good. And he's won [at TPC Sawgrass] before. There's never been any substitute for length, but it's definitely a course that is more position than it is power," says Funk. TPC Sawgrass is best known for its notorious 17th hole that has a green virtually surrounded by water.
It used to be the one and only hole used for a sudden-death playoff, until a rule change stretched out any post-tournament competition to the last three holes.
"I like going to three holes. I always thought they should have done some sort of aggregate. That will be really exciting if that happens this week. It's not a one-and-done deal. You have a lot of options on all those holes [16, 17 and 18]...You hate for it to come down to one shot," says Funk.
Would Funk make any changes to this par 72, 7,215 yard course where the tournament is always played?
"I'd make a radical change on number 9... It's one of the widest fairways right now. It's an awkward wedge shot into the green... but I think it would be more exciting and fit the dynamics of the course if they followed the water all the way down," he says.
Other top contenders for the trophy are Matt Kuchar, Sergio Garcia and Phil Mickelson. First prize is $1.8 million and the runner up gets $1.08 million.
Even though Funk is sitting out this year's Player's Championship, he's very much engaged in PGA Champions Tour for senior golfers. At age 57, Funk hopes to stay on the circuit at least another decade—that despite bouts of pain in his wrists and shoulders. When that happens, Funk tees up NOXICARE to keep his strokes on the money. It's a natural pain fighter containing seven, anti-inflammatory ingredients.
"Over the years, I've used a number of treatments to reduce the hurt that inevitably comes with punishing exertion. Since I started using NOXICARE, I don't need prescription painkillers that can be dangerous and addicting," says Funk, who has been playing competitively for 30 years.
"We salute Fred for his continuing achievement in one of the world's most demanding sports, and we're very proud that NOXICARE helps him play without pain," says Reza Ghorbani, MD, ABIPP, FIPP.
Doctor Ghorbani created NOXICARE and is the president and medical director of the Advanced Pain Medicine Institute of Greater Washington, DC. He is also founder and CEO of Truceuticals LLC®, which markets NOXICARE. In addition, he is the author of "Secrets to a Pain Free Life."