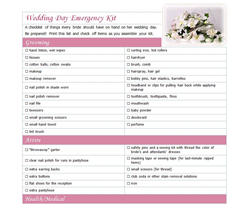 A simple printable wedding day checklist can ease much of the stress associated with planning your big day.
(PRWEB) May 11, 2014
Weddings are beautiful occasions to celebrate the union of two people. Unfortunately, there is so much to do that the happiness can be lost to stress. However, much of the stress can be eliminated by using a checklist to keep track of completed tasks on your journey to wedding day.
Now, a comprehensive printable wedding day checklist is available as part of an entire new line of wedding items at ChecklistTemplate.net.
"The approaching summer months mean we're about to get into the throes of wedding season," said ChecklistTemplate.net spokesperson Andrew Steele. "A simple printable wedding checklist can ease much of the stress associated with planning your big day."
The printable wedding day checklist from Microsoft is an excellent tool for organization. The user-friendly checklist is completely customizable in every way, making it the perfect wedding planning tool.
And what's more, the Microsoft printable wedding day checklist is available from ChecklistTemplate.net at absolutely no charge.
"It's no secret that weddings can get pretty costly," said Steele. "The printable wedding checklist is designed to save money both in its complimentary availability as well as helping you keep track of finances as you make wedding day purchases."
The wedding day checklist is just one of the many new wedding items available at ChecklistTemplate.net. Visitors can also print a wedding registry checklist, wedding photography checklist, planning a wedding checklist, as well as the wedding on a budget checklist. All of the wedding templates are available to visitors at no charge.
In addition to wedding checklists, ChecklistTemplate.net carries a wide variety of business, event, task and school checklists. There are also new pet checklists as well as checklists for your health.
For the complimentary printable wedding day checklist, or for hundreds of other helpful checklists, please visit ChecklistTemplate.net today.