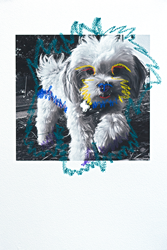 PAWS/LA provides services to assist low-income seniors and people disabled by a life-threatening illness to allow them to keep their pets
Beverly Hills, CA (PRWEB) May 12, 2014
AD Gallery: Contemporary Fine Art is proud to present a special event on Saturday, May 17th, from 6 - 9 pm where a percentage of all print sales from the exhibiting artists Helen K. Garber and Wally Gilbert will benefit PAWS/LA, the organization that helps take care of companion animals of the elderly or very ill. The gallery is located at 8670 Wilshire Boulevard, Suite 114 Beverly Hills, CA 90211. The event is free to the public and gallery director Amy Delaporte can answer all questions. Please email or call her at amy(at)artclientservices(dot)com or 310 279-7931.
Helen K. Garber has a new Springer Spaniel rescue dog, Hudson, who has her spending much of her week at the Joslyn Dog Park in Santa Monica. She has been documenting the fun-filled activity at the park in what she calls "off the knee" style of candid photography. This first series of images celebrates the puppies -- those small bundles of silliness that are so precious and wonderful. She prints the archival digital photographs on watercolor paper and then marks the paper with the same sense of abandon that highlights puppy play. The work becomes photo-based encaustic mono prints as they are drawn with oil pastel on a hot plate. Each one is a unique piece of art.
Ms. Garber is known internationally for her night urban landscapes taken in cities such as Los Angeles, New York, Rome, Paris and Venice. Her work is in important museum, corporate and personal collections. Ms. Garber began working in mixed media in 2010. Her first encaustic piece which was sold was subsequently acquired by MOMA Dublin, Ireland. She was awarded the 2014 Santa Monica Artist Fellowship. helenkgarber.com.
Wally Gilbert's photographs ballet dancers in rehearsal as the dancers are seeking to express the joy and stress of the dance. He was given access to the rehearsals of Boston Ballet by its artistic director, Mikko Nissinen, and created a series of images published as a book entitled Behind the Scenes at Boston Ballet by Christine Temin with photos by Wally Gilbert. We present these straight photographic representations as well as a series of manipulated images, where Gilbert abstracts the dancers to color block graphic representations that impart moments of peak expression.
Photographic artist had a long career as a Molecular Biologist. He received a Nobel Prize in Chemistry in 1980 for discovering a rapid DNA sequencing method, which solved the mystery of understanding genes. For the last decade, he has been following a passion in creating visual art. He has had 47 solo-exhibits, including an exhibit at the Massachusetts College of Art in 2004, a major installation in Warsaw and Lodz, Poland, a show at Churchill College, Cambridge, England, a show in Cracow, Poland, and a show in Berlin, Germany, repeated last year in Lindau, Germany.
We also invite the public to stop by during gallery hours and try your own hand at drawing on prints. These will be added to our community participation wall that will stay on display until the close of the exhibition.
The May 17 reception will benefit PAWS/LA. A percentage of all print sales will be donated to this important organization. PAWS/LA is dedicated to preserving the loving bond between people and their companion animals. To that end, they provide services to assist low-income seniors and people disabled by a life-threatening illness keep and care for their pets. This event helps to celebrate their 25th year servicing the Los Angeles community. Ms. Garber has been supporting the organization with the sale of her prints for almost ten years.
The work will be on exhibit until May 27, 2014.