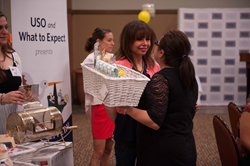 While many of us would get to share this special moment with our mothers, sisters, family and friends, most of these women are far from home and don't have that option. Today this baby shower brought home to them- Robin Crouse, USO Fort Hood Center Dir.
Fort Hood, TX (PRWEB) May 09, 2014
Welcoming a new baby is an exciting time, and one that is usually spent with family and friends but for many of the women who serve in our U.S. armed forces and military spouses, sharing the experience with extended family is not always an option. That's why the USO and Heidi Murkoff, author of the "What to Expect" series, have been traveling around the world to bring the "Special Delivery" program to military families and to help build stronger community bonds.
Just in time for Mother's Day, today the USO and Murkoff's What to Expect Foundation delivered a very special baby shower to 150 pregnant military spouses and service women at Fort Hood in Texas. Among the women honored were active duty troops and those affected by the recent tragic events at Fort Hood, just one month ago. The day of traditional shower games, food and fun gave the community an opportunity to celebrate life and new beginnings.
Fort Hood is home to more than 42,000 soldiers as well as their more than 20,000 family members. At today's baby shower active duty servicewomen and military spouses, at every stage of pregnancy, came together as a community to share a very important and exciting time in their lives. Whether they were bonding over stories about their husband's deployments, or contemplating what was next for their families, the women found comfort in each other. From sharing pregnancy stories, to creating baby themed items out of play-doh or guessing how many squares of toilet paper it would take to circle their growing bellies, the day was filled with fun and connecting.
"A celebration like this means so much to the expectant moms here at Fort Hood," said USO Fort Hood Center Director Robin Crouse. "While many of us would get to share this special moment with our mothers, sisters, family and friends, most of these women are far from home and don't have that option. Today this baby shower brought home to them and let them know we celebrate them and their service and sacrifice is appreciated."
Jessica Cir, an active duty service member, is far from her family and her husband is deployed. She said "it was such a great event. It feels good knowing there are people there for you and people you can lean on. I met some amazing women that I didn't know before today and now we're going to stay in touch."
A Q&A session with Murkoff was the highlight of the event for mothers. For an hour, Murkoff answered pressing questions, covering everything from stress during pregnancy and overbearing family members to juggling multiple kids at home while a spouse is deployed. Additionally, the author addressed some of the common myths of pregnancy, offered parenting tips and shared her own experience as a mom. Before leaving the event, each guest received a signed copy of one of the books from Murkoff's series of their choosing.
"Becoming a mom is exciting, but it can also be a little overwhelming, even a little scary – especially when you're so far from your support system of family and friends. Add in some of the stresses of military life, and it can be even harder," said best-selling author Heidi Murkoff. "Motherhood is the ultimate sisterhood, and there's no better representation of that sisterhood than these baby showers, bringing these beautiful mamas together for a celebration of what they share…and what more perfect day to celebrate than Mother's Day? My favorite part? The hugs!"
Since its founding in 1997, the What to Expect Foundation has had one mission: to educate and empower moms in need so they can expect healthier pregnancies, safer deliveries and healthier, happier babies. Co-founders Heidi and Erik Murkoff have taken that mission one step further – partnering with the USO to create the "Special Delivery" program and supporting the needs of military moms. Coming up, the USO and the What to Expect Foundation will host "Special Delivery" military showers at:
Okinawa, Japan – June 17, 18 & 19, 2014
Fort Drum, New York – August 22, 2014
Fort Bliss, Texas – September 30, 2014
To find out more about the USO Warrior and Family Care Program visit us online at http://www.uso.org. A complete list of 2014 Warrior and Family Care Programs and services can be found online at http://www.uso.org/warriorandfamilycare/. Click here to view photos from the event.
# # #
About the USO
The USO lifts the spirits of America's troops and their families millions of times each year at hundreds of places worldwide. We provide a touch of home through centers at airports and military bases in the U.S. and abroad, top quality entertainment and innovative programs and services. We also provide critical support to those who need us most, including forward-deployed troops, military families, wounded warriors, troops in transition and families of the fallen. The USO is a private, non-profit organization, not a government agency. Our programs and services are made possible by the American people, support of our corporate partners and the dedication of our volunteers and staff.
In addition to individual donors and corporate sponsors, the USO is supported by President's Circle Partners: American Airlines, AT&T, BNSF Railway, The Coca-Cola Company, Grand Canyon University, JCPenney, Jeep, Johnson & Johnson, Kroger, Northrop Grumman Corporation and TriWest Healthcare Alliance and Worldwide Strategic Partners: BAE Systems, BIC, The Boeing Company, ConAgra Foods, FedEx, Lockheed Martin, Microsoft Corporation, Procter & Gamble, TKS Telepost Kabel-Service Kaiserslautern GmbH & Co. KG and Wawa Inc. We are also supported through the United Way and Combined Federal Campaign (CFC-11381). To join us in this patriotic mission, and to learn more about the USO, please visit uso.org.