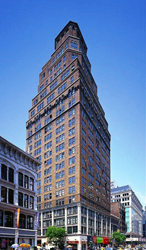 Tenant's are more likely to support visitor management when you include features that they need for their own business.
New York, NY (PRWEB) May 13, 2014
SV3-Visitor, Building Intelligence's Visitor Management application, has been launched at 875 Avenue of the Americas creating a secure work environment for tenants. Expediting visitor entry while maintaining security policies, SV3 combined with Shortpath Facility, supports a complete set of tenant services including event scheduling, work request management, notifications, and visitor management.
Sierra Real Estate utilizes Building Intelligence's Shortpath and SV3- Visitor platform to manage the specialized security and operations demands of the office building at 875 Avenue of the Americas in New York City. A 26 story office building one block east of Penn Station poses unique security threats to tenants due to the fact that it provides easy access to mass transit.
During renovations one year ago, the President of Sierra Realty, James Wacht was looking to improve the security at the 875 Avenue of the Americas Building while maintaining great service in a cost effective way. The tenants were concerned with building security and feared that unauthorized people might enter elevators or stairwells. "It is not a large building so we were sensitive to price when searching for a solution and Building Intelligence was able to provide the perfect compromise between cost and effectiveness," stated Mr. Wacht. As an affordable, hosted security solution, SV3 is maintenance-free, scalable to any size facility, and extensible to include access control for vehicles and vendors in the future.
"Overall, tenants like it and it has improved our security," continued Mr. Wacht noting that the building manages 1000 visitors each month.
SV3 is a cloud based solution which does not require any onsite software installation and comes with continuous free upgrades that are pushed to building without the need for a service call, making it the perfect solution for a multi-tenant building visitor management system.
Combined with Building Intelligence's Shortpath facility solution, the browser based applications effectively manage a tenant's request to have guests and vendors visit the building using the same log in credentials to issue work orders to the building maintenance department. The facility management team can host a message board, track work order requests and manage visitor and vendor interactions within the building, such as insurance requirements for entry. The combination of products simplifies the exchange of products, services, and information among building owners, office managers, tenants, and vendors.
"SV3 provides the tenants a great way to participate in security and operations. Security is everyone's responsibility," says CEO Jeff Friedman. Building Intelligence delivered SV3 to the building with conference room scheduling capabilities and meeting management as part of the package for each of the tenants. "This is not only about security, this is also about providing enhanced services. Tenants are more likely to support visitor management when it includes features that they need for their own business."
SV3-Visitor offers an extremely high level of security with a simple user interface for both guards and tenants and focuses on improving the security of a facility by enabling the quick and easy capture of visitor identity information from a driver's license or government issued ID to document the visit. At 875 Avenue of the Americas, visitor check-in occurs within seconds using CSSN's SnapShell® ID scanner and SV3 to create a complete electronic record of all visitors including who authorized them and where they are going. Tenant's pre-register visitors and guards validate their identity and print the badges upon the their arrival. Multi-tenant facilities can use SV3 combined with Shortpath Facility to address tenant requests, visitors, notifications, and insurance information all on one interface.
Combined with Shortpath Facility's work-order and notification system, SV3 rounds out a complete portal of services for each tenant.
"SV3 is very good and makes us feel very secure by decreasing our risk of unknown people entering secured areas of the building," said Peter Dreyfuss, Director of Special Projects at 875 Avenue of the Americas.
Building Intelligence, Inc. is a New York based information technology and security services provider. The company provides a suite of facility and security cloud-based solutions for managing facilities in many different industries. Utilized by commercial properties, residences, government facilities, hotels, hospitals, stadiums, and performance centers, our cloud-based portal, vehicle security, visitor security and vendor solution is customized to fit the each client's requirements.
All of our systems provide streamlined operations, logistics, analysis and comprehensive security protocols that provide people, property and business with an ideal combination of services.