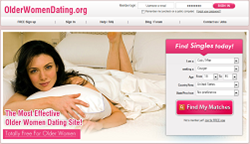 (PRWEB) May 28, 2014
Renowned older women dating website Olderwomendating.org has recently added a brand new feature. This attractive feature named "Hot Topic" is expected to make cougar dating easy like never before. Olderwomendating.org is known for their innovative ideas, and their new feature will offer several topics related to dating for older women. Members can express their opinion about each of these topics and leave their comments. As a result, older women looking for a date would be able to find what people feel about dating them.
There are thousands of older women dating sites all across the web. However, not many of them have features that can be compared to that of Olderwomendating.org. It is offering a plethora of highly popular features such as cougar forums, cougar blogs, fashion shows, dating ideas for cougars, and much more. It may be recalled that Olderwomendating.org grabbed a lot of attention recently with the introduction of their "Let's Meet" feature.
Older women have their specific requirements, as far as dating is concerned. At times, these requirements may not be similar to other women looking for a date. This is where the new "Hot Topic" feature from Olderwomendating.org can be extremely useful. The topics covered may include first dates, sex, age in relationships, or anything similar. This feature will help older women understand what men feel about dating them. For example, the topic "Is 35 too old to be sexy?" has already received a number of insightful responses. Interestingly, most of the respondents have mentioned that age has nothing to do with being sexy. Responding to this topic, one of the members said, "Since I can remember, I have been a big fan of mature women. 2 years or 20 years older, it doesn't make a difference. If we click, we click."
About Olderwomendating.org: Olderwomendating.org is one of the most trusted online dating platforms for older women dating younger men. This popular cougar dating website has recently launched the "Hot Topic" feature to make dating easier for its members.