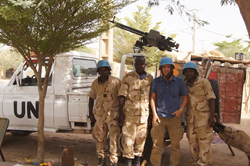 (PRWEB) May 13, 2014
Upon Barry Hoffner's return to Timbuktu to visit Caravan to Class schools, some being rebuilt following the 2012 extremist occupation in northern Mali, he found the city driven by two main factors: a heavily fortified, on-alert military presence and humanitarian aid.
Both UN peacekeeping forces (mostly from Chad, Burkina Faso, Nigeria and Bangladesh) and French forces (Operation Serval) are on constant patrol in the city as well as desert areas around Timbuktu. Military checkpoints are frequent, and a total lockdown of Timbuktu prohibits entering or exiting the city between the hours of 6:30pm and 6:30am.
There are no tourists. The only way into Timbuktu for foreigners is by UN flights available only to permitted NGOs or UN personnel.
Despite these challenges, Timbuktu residents are incredibly grateful for the massive French show of force on April 1, 2013, and now to the UN peacekeeping forces, to rid their special city of the Ansar Dine militants (who hold a strong, documented association with Al Qaida).
Everyone has a personal story of suffering experienced at the hands of the militants, with the lucky ones telling about their harrowing escapes, ransacking of their homes, and subjugation and the unlucky ones telling of violent beatings and rape. One resident described Timbuktu during the occupation as a prison.
Stability has been restored, but as one resident told Hoffner, the Islamic militants "are still out there; the desert is big with many places to hide."
Hoffner sees hope in the opportunity to help the deserving children of Timbuktu achieve their dreams of literacy. He states, "There are more NGOs on the ground in Timbuktu than before the crisis, and I see tremendous opportunity to forge partnerships with some of these NGOs to reinforce the impact of our programs."
The people of Timbuktu deserve to have their city return to normal. Yet as the conflict grew over time, unfortunately, this recovery period will likewise take a long time.