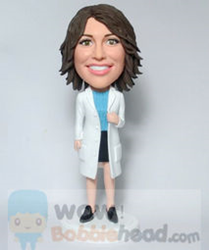 (PRWEB) May 12, 2014
Wowbobblehead.com is a leading online supplier of funny bobbleheads; it is doing its best to offer the best figurines for the international clients. Recently, the company has released its new range of personalized bobbleheads. All people can enjoy a discounted price (up to 30 percent off) when they order figurines on the company's website.
The company's new collection of personalized bobbleheads is created according to the latest customer feedback. Actually, Wowbobblehead.com considers custom satisfaction as one of the most important parts of its business. Its experienced specialists will help customers do image planning from head to toe. The big promotion will come to an end on May 31, 2014.
"We are very excited to release our brand new bobbleheads. They are offered in many different designs. Our company is committed to providing top quality bobbleheads at affordable prices. All the ordered items will be delivered worldwide via premium carriers like DHL and UPS. The reasons to choose our products are simple: all our bobbleheads are made from high quality materials," the company's marketing specialist says.
To meet the specific needs of different customers, the company also provides fully customized bobbleheads. On its website, clients don't have to pay exorbitant amounts of money to get funny items. Its designers are now striving to make more novel products.
About Wowbobblehead.com
Wowbobblehead.com is one of the most popular suppliers of custom made bobbleheads. It is serving more than 2000 clients in the global market. Plenty of its interesting products sell well at home and abroad; they are highly appreciated by worldwide clients. The company is especially famous for its wedding bobbleheads, anniversary bobbleheads and sports bobbleheads.
For detailed information about its funny items, customers can visit: http://www.wowbobblehead.com/.