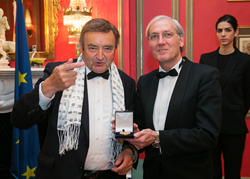 Madrid, Spain (PRWEB) May 10, 2014
Foro Europa 2001 ("The European Forum 2001") has awarded the gold medal to sculptor Angel Orensanz on May 9, 2014 during a gala dinner at the Westin Palace Hotel, Plaza de las Cortes, 7 in Madrid, Spain.
The prestigious award of "The European Forum 2001" recognizes excellence and, with a list of prominent sponsors and past awardees, enjoys wide recognition on the European continent.
Angel Orensanz has developed and generated an outstanding body of work in Europe, the US and Japan. His public artwork is widely represented in Madrid and he has fifteen sculpture pieces/sculptural groups incorporated into the urban design of Barcelona.
Angel Orensanz has opened his art foundation in New York more than twenty-five years ago, rehabilitating a 160 years old building that exudes history and culture. He has been the mentor of the Museum in Sabinanigo (Huesca) that carries his name and opened in 1978.
Besides sculpture, painting and drawings his cinematographic work has been strongly welcomed in film festivals in France, Spain, Canada and the US.
He has exhibited work worldwide, from the Hermitage and The Museum of Modern Art in Russia through the Museum Fondazione Orestiadi in Sicily to the gardens of the Museo del Traje in Madrid.
His works are in public and private museums and art collections. The foundation in New York features a permanent collection of his large size sculptures, drawings and photographs and recently organized a major exhibit of his bronze sculptures. A large-scale exhibition of his drawings is in preparation in Tokyo and scheduled to open this Fall.
Angel Orensanz is a member of the Royal Academy of San Fernando, Madrid; the Russian Academy of Arts in Saint Petersburg and the Academie des Sciences, Lettres et Arts in France.
"The European Forum 2001" was created in 1996 by José Luís Salaverría Palanca for the exchange of ideas between entrepreneurs, artists and politicians. Today it is considered one of the most prestigious forums in Spain with a prominent presence in Europe, where it enjoys wide recognition.
The European Forum 2001 is located at Via Augusta, 158, 3, 1; 08176 Barcelona. Telephone 64629756.