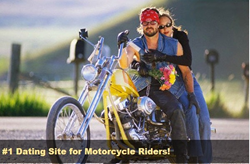 Los Angeles, California (PRWEB) May 11, 2014
Everyone has a favorite - whether when it comes to pets, albums or movie stars. For those who love to ride motorcycles, they of course have their favorite motorcycle brands. Recently, an online dating community that's specially designed for motorcycle enthusiasts, BikerKiss, did a survey among its members about what preference they have on the brand of the motorcycles. Over 1,000 members were polled on the subject. They gave their votes on their favorite motorcycle brands.
Honda and Harley-Davidson had the most fans among all the BikerKiss members. Each of them got 20% of the votes. Honda is a major Japanese manufacturer of motorcycles and has been the world's largest motorcycle manufacturer since 1959. Harley-Davidson, often abbreviated as H-D or Harley, is an American motorcycle manufacturer founded in Milwaukee, Wisconsin. Following them was BMW, a Germany motorcycle and automobile manufacturer, who occupied 14.5% of all votes. Another Japanese brand, Suzuki, came out as the 4th with about 9% votes under its name. Ducati, KTM and Kawasaki were tied for 5th place. They all got 7% of the votes. Yamaha, Indian and Triumph respectively got 5%, 4%, 3% of all votes, making them the 6th, 7th, and 8th in members' favorite list. The rest votes (about 3.5%) went to other brands, such as Bimota, Husqvarna, MV Agusta and so on.
Visit BikerKiss for more.
About BikerKiss:
BikerKiss.com, one of the SuccessfulMatch networks, is world's first, largest and most effective biker dating site for biker singles who are looking to meet other biker friends. It is a best place for bikers and friends to get to know each other, establish relationship and talk about their interests, or to help each other.