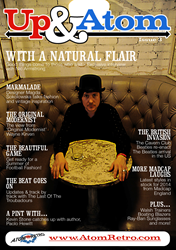 Following on from the success of the previous 2 issues, the third issue features articles on fashion, music, books and more. The magazine is free with all Atom Retro orders placed over the website until stock runs out.
Scarborough, North Yorkshire (PRWEB UK) 13 May 2014
Online fashion retailer, Atom Retro, are happy to announce the third installment of their house magazine, 'Up&Atom', has now arrived. Following on from the success of the previous two issues, the third issue features articles on fashion, music, books, and more. The magazine is free with all Atom Retro orders placed over the website until stock runs out.
Up&Atom was launched in 2013 as a house magazine for the retro and mod clothing website, Atom Retro. As editor and buyer, Alister Poulton says, "It's really just a way of giving something that little bit extra to our customers. We hope people will find the interviews interesting and the updates on products useful as well. So far we've had great feedback and it's going from strength to strength. We're lucky to have some great people on board helping us to keep things fresh."
The magazine is written mostly by Atom Retro staff, with contributions from fashion industry experts and insiders. As well as the fashion features, the magazine contains interviews and articles on all things music, retro, mod, and vintage related. Issue 3 leads with an exclusive interview with legendary musician, Nic Armstrong, who talks to Up&Atom about his latest release, The Pocketless Shirt EP, his plans for the future, and the story behind his debut album 'The Greatest White Liar,' originally released in 2004.
For fashion themes, Up&Atom focuses on Magda Sokolowska's 'Marmalade' dresses range for summer 2014, which is set to feature an abundance of 1960s inspired dresses, mod influence with contemporary twists. There's also a rundown of fantastic football attire to tie in with this summer's World Cup and the latest from the Madcap England clothing range.
Regular Up&Atom feature, 'A Pint With...' is back with The Stone Agency's Kevin Stone. This edition Kevin speaks to author Paolo Hewitt who talks about his new book (kindle and e-book only) 'But We All Shine On - The Remarkable Orphans of Burbank Children's Home,' a follow up to Hewitt's autobiography of his childhood spent in care and foster homes, 'The Looked After Kid'.
Continuing the summer theme, Up&Atom gives the lowdown on the latest additions and the iconic styles in Ray-Ban Sunglasses and shares a selection of cool striped boating blazers, perfect for the dapper gent. Finally, there's a look at Walsh Trainers, which have been made in Great Britain since 1961.
Another regular contributor, Simon Parr of Gibson London talks to 'original modernist', Wayne Kirven about his influences and inspirations. Wayne also shares insights into his time with Marc Feld (aka Marc Bolan) amongst other tales of modernism.
Rounding up this edition of Up&Atom is a chat with The Cavern Club Beatles' Paul Jones who plays George Harrison in the band. As house band of The Cavern Club in Liverpool, this year saw the guys travel to the States to take part in the celebrations commemorating the anniversary of 50 years since The Beatles took America by storm. Atom Retro supplied the footwear - the iconic Chelsea 'Beatle Boots' for this event. Paul shares a few stories of this fab time.
The magazine is free with Atom Retro orders until stocks run out. Selected articles and back issues from Up&Atom can also be read online at Atom Retro's Up&Atom blog.
About Atom Retro:
Atom Retro is a UK leading clothing retailer, boasting the largest range of authentic, high quality retro and mod clothing for men and women online. The Atom Retro range is inspired by the Carnaby Street boutiques of the sixties and includes an ever growing list of iconic brands and original, independent designers. Browse Atom Retro's extensive range of retro and mod clothing at http://www.atomretro.com.