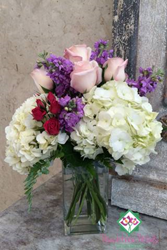 Atlanta, GA (PRWEB) May 11, 2014
Peachtree Petals, a recognized leading Atlanta florist specializing in premium floral arrangements and wedding floral decor services, announces the Weather Channel broadcasted at Peachtree Petals live nationwide for Mother's Day. The florist makes the announcement to in an effort to market its viability as one of the most trusted source for floral services in Atlanta, expand its current customer base and increase its exposure nationwide.
The Weather Channel visited the premier Atlanta florist Friday morning and broadcasted its visit live nationwide. Weather Channel's Meteorologist Maria LaRosa hosted a brief interview relative to the recent severe winter affecting the cut flower supply within the floral industry. LaRosa also conducted frequent live feeds aired throughout the morning on the Weather Channel, as Peachtree Petals prepared for one the highest regarded and top floral sale holidays of the year—Mother's Day.
Peachtree Petals was honored with the Weather Channel's visit and presented to the Weather Channel's LaRosa with a complimentary, premium floral arrangement. For highlights of the live broadcast, pictures and more, visit Peachtree Petals'on its' comprehensive Facebook page. Peachtree Petals will be open on Saturday, the day prior to the holiday, and will be open on Mother's Day as well.
Customers can pick up the best Mother's Day flowers on Sunday from the Peachtree Petals floral and gift shop. The shop is located within the downtown area at 1450 West Peachtree Street, 2nd Floor, Atlanta, Georgia. The floral and gift shop is easily accessible and full of a wide range of Mother's Day gifts, including premium Godiva chocolates, plush teddy bears, Mother's Day mylar balloons, and more. Its operating hours for the week of Mother's Day will be Monday through Saturday from 8:00am to 5:00pm and on Sunday from 8:00am to 1:00pm.
Peachtree Petals is a well-known leading Atlanta florist and recognized Master Florist nationwide. From Mother's Day flowers to birthday flowers, Peachtree Petals is able to meet all of your floral needs. Their floral designers have over 25 years of combined experience and enjoy their craft. Based in Atlanta, Georgia, Peachtree Petals services a growing list of clients, including company floral subscriptions and weekly floral services. The company offers a simple approach to the floral industry, most notably, same-day delivery of all their floral arrangements in the Atlanta and Metro-Atlanta area.