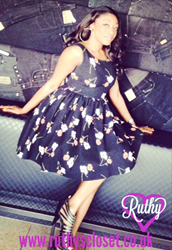 The collection inspired by Kate's own innate sense of style
London (PRWEB UK) 10 July 2014
Kate Moss, supermodel, style-icon and long-time friend of Topshop, returned last month with a new collection for Topshop. The new collection is inspired by Kate's own innate sense of style. The looks include Balearic Dressing, Cocktail Hour, Pyjama Dressing and Tailoring Noir. Within days of the items hitting the high street, most of them were sold out online and in stores. Some of the items appeared on ebay retailing for five times their recommended retail price (http://www.standard.co.uk/news/london/shoppers-sell-new-kate-moss-items-on-ebay-for-five-times-the-price-hours-after-launch-9303322.html). Ruthy's Closet has three dresses from the amazing Cocktail Hour Collection for hire at affordable prices.
The floral print sundress is crafted from cotton with a waffle textured finish, fitted at the waist for a cinched-in silhouette. If you want more of a cinched-in look use a wide belt — this is a great day or night look.
The strappy silver cocktail dress with bugle bead fringing is in a tiered silhouette and is Ruthy's favourite. The look: think the Great Gatsby movie and not only is it the kind of dress that stands out, it's great fun for dancing in. Be like Beyonce and shake your bootylicious self and watch the bead fringing swing with you.
The white zip front cotton dobby sundress is double-ended with pleated detail to the waist and neck. It has a Marilyn Monroe feel to it — again a great day or night look. It could be an choice ideal for a day at the races at Ascot (just cover your shoulders if you're going to be in the Royal Enclosure) or a city wedding.
For more details on how to hire the new items and the entire Ruthy's Closet collection, please visit http://www.ruthyscloset.co.uk.
For more details on the rest of the Kate Moss Collection for Topshop: http://www.topshop.com/webapp/wcs/stores/servlet/CatalogNavigationSearchResultCmd?beginIndex=0&pageSize=20&sort_field=Relevance&viewAllFlag=&storeId=12556&catalogId=33057&langId=-1&parent_categoryId=203984&categoryId=1716003
Ruthy's Closet can be found at http://www.ruthyscloset.co.uk. Follow Ruthy's Closet on facebook.com/ruthyscloset, Twitter @Ruthys_Closet, Ruthyscloset on Instagram, Pinterest or Polyvore for styling tips.