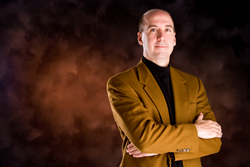 The Internet of things and M2M will offer people a wealth of opportunity--my goal is to get them get ready to embrace those opportunities and use them to their fullest advantage.
Houston, TX (PRWEB) May 13, 2014
While some people brace for the future, trend expert and keynote speaker Jack Uldrich encourages people to embrace the future.
Michelle Munoz-Talcott, a guest contributor for Verizon's Enterprise Soultions says, "Machine to Machine (M2M) solutions are transforming the way private and public sector organizations work – from remote tracking of assets to gathering and analyzing data, these solutions can help them run their organizations more efficiently....demonstrating how private and public sector organizations can transform their environments with M2M solutions." Uldrich's keynote will focus on how to leverage these technological leaps to empower the everyday users.
On May 14th, Uldrich will continue his twelve engagement speaking spree with Verizon Wireless' Connected Technology Tour. The conference itself is, "highlighting M2M applications within all vertical markets concentrating specifically on applications within the finance, healthcare, manufacturing, retail, energy, transportation, security and government sectors." (A sample of some of the ideas he will present can be viewed in this article on The Internet of Things.)
This month Uldrich will also keynote Verizon's Tour in Boise, Memphis, Nashville and Los Angeles.
Uldrich is a renowned global futurist, independent scholar, sought-after business speaker, and best-selling author whose works include, "The Next Big Thing is Really Small", "Higher Unlearning: 39 Post-Requisite Lessons for Achieving a Successful Future" and "Foresight 2020: A Futurist Explores the Trends Transforming Tomorrow."
His other written works have appeared in The Wall Street Journal, BusinessWeek, Forbes, The Futurist, Future Quarterly Research, The Wall Street Reporter, Leader to Leader, Management Quarterly, and hundreds of other newspapers and publications around the country.
A frequent guest of the media—Uldrich has appeared on CNN, MSNBC, National Public Radio, and as a guest commentator on James Woods "Futurescape."
Parties interested in learning more about Jack Uldrich, his books, his daily blog or his speaking availability are encouraged to visit his website at: http://www.jumpthecurve.net. Media wishing to know more about the event or interviewing Jack can contact Amy Tomczyk at (651) 343.0660.