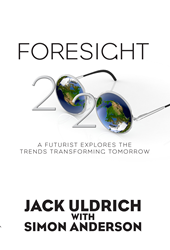 Fast forward into the future and think how accelerating advances in technology will drive seismic change and deliver paradigm-shattering transformations in the world. Now ask yourself if you are ready to embrace it all.
Boise, ID (PRWEB) May 14, 2014
"What impact will the internet of things have on your company's future?" Verizon Wireless is asking the question, and trend expert Jack Uldrich is putting forth some answers.
Verizon Wireless' five month long Connected Technology Tour aims to connect Machine-to-Machine (M2M) specialists with everyday users of the new technology and help apply strategic solutions that will demonstrate how the "Internet of Things" can empower attendees to: increase operational efficiencies; improve customer's or end-users' experience; enhance safety and security and generate new revenue streams in their businesses.
To that end, Verizon has engaged futurist Jack Uldrich to open the event in Boise with his thoughts on these very matters. Uldrich strives on a daily basis to research, write and discuss the latest trends with his audiences, preparing them for the impact of the future.
Uldrich will also share the content from his forthcoming book, "Business as Unusual: How to Future-Proof Yourself Against Tomorrow's Transformational Trends, Today" and outline the ten trends that are most likely to transform the world of tomorrow. (A sample of his ideas may be found here in this Forbes article.) He will also identify a series of concrete actions attendees of the Verizon conference can take today in order to "future-proof" themselves.
Acknowledged as one of the world's leading global futurists Uldrich has addressed hundreds of clients in a variety of industries throughout the world. In addition to his twelve Verizon Wireless talks, other recent engagements include, The American Medical Association, TEXPERS, Chu Vision Foundation, UnitedAg, the Ohio Educational Technology Conference, the Fireman's Fund Insurance Company and the Million Dollar Round Table. Other clients include Cisco, IBM, WiPro, PepsiCo, United Healthcare, Boston Scientific and General Electric.
Parties interested in learning more about Jack, his books, his daily blog or his speaking availability are encouraged to visit his website. Media wishing to know more about either the event or interviewing Jack as an energy futurist or trend expert can contact Amy Tomczyk at (651) 343.0660.
Uldrich is a renowned global futurist, best-selling author, editor of the monthly newsletter, The Exponential Executive, and host of the award-winning website, http://www.jumpthecurve.net.