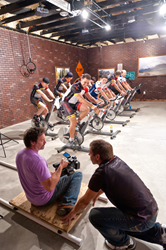 The intention is to give those who ride outside a feasible option without any barriers of either geograpy or income.
Pittsburgh, PA (PRWEB) May 13, 2014
Indoor Cycling (sometimes generically referred to as Spinning®) has been in the news and experiencing a resurgence of popularity since its initial storm in the 1980s. Everything from the nouveau chic Soul Cycle experience that cater to the "in-crowd", to high tech equipment that provides a computer terminal of data while you ride like Peloton's kick starter project has this market segment buzzing. Meanwhile, Cycling Fusion is putting its two week schedule of Indoor Cycling classes on their home page.
"Unfortunately this new found enthusiasm still hasn't benefited the outdoor cyclist. These new studios that are hot right now are quite common in the fitness industry. They represent the latest fitness fads that will be around for a while, but the sport of cycling has been here for hundreds of years and will continue to be here after the last Soul Cycle closes its doors. However, since there are so few places to take real Indoor Cycling classes, we have begun to stream them for free so that no matter where you are, if you have an internet connection and a bike, you can do a cycling specific ride indoors with us," said Cycling Fusion founder and CCO, Gene Nacey.
The intention is to give those that ride outside or those that simply want to "keep it real", a feasible option that geography alone will not prevent. With the fact that there will be no charge for it will also remove a barrier there may have been in the past when all Cycling Fusion classes required a long term membership with their On-Demand streaming service they call The Training Center.
"Cyclists know within the first 15 minutes if an indoor class is being taught by an experienced outdoor rider or coach, and whether the class that they are taking will benefit their riding outside. In most cases, these new studios are riddled with actions on the bike that would never be done outside. The outdoor cyclist sees this, and never comes back. We just had to provide an easy way to show them that real Indoor Cycling is being done if they just look in the right places," explained Nacey.
In addition to digital classes taught by experienced cyclists and USA Cycling coaches, the Training Center also contains virtual cycling rides from Global Ride, as just another way to help the dedicated cyclist feel like they are getting away and riding outside, when the weather or circumstances just do not permit it.
About Cycling Fusion:
Cycling Fusion is a company dedicated to bringing the best of indoor and outdoor cycling together. On the national and international scene, we provide instructor certification, teaching tools, and streaming video classes led by internationally known master trainers and full blown cycling workshops delivered free with archived programs available for on-demand use. By promoting changes in the indoor cycling environment and teaching techniques, Cycling Fusion aims to bring more outdoor cyclists inside to train and more indoor cyclists outside to experience the joys of riding road or mountain bikes.