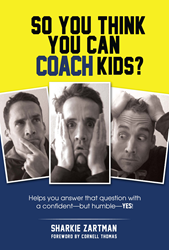 The positive goals and responsibilities of coaching kids are presented with passion and insight. - Dr. Bob Weil
Hermosa Beach, California (PRWEB) May 12, 2014
As a highly ranked amateur then professional volleyball player, as well as a title-winning college coach, Sharkie Zartman believed she was fully prepared to take on youth sports. She now understands how different the dynamics are when working with impressionable young athletes. Zartman brings her more than 10 years of experience as a youth sports coach to the new handbook , "So You Think You Can Coach Kids?" (ISBN 1495206076).
The author's easy-to-follow advice helps beginning and experienced coaches alike, with the former learning the basics of coaching youth sports and the latter gaining new insight and support. Zartman covers all aspects of this important role, including developing a coaching philosophy, training young athletes, communicating with kids, preventing injuries and dealing with officials and parents. She also provides guidance for those leading their own child's team, as doing so presents a unique set of challenges.
"Too many people get into coaching and have no clue how to work with young athletes, teach skills and deal with parents. Many also underestimate how big an impact, positive or negative, they can have on the players and their future selves. Coaching kids is more than coaching just the sport," Zartman says.
Youth sports are more competitive than ever, with the pressure to win existing at just about every level. This handbook proves vital to guiding young athletes and should be behind every coach's clipboard. "So You Think You Can Coach Kids?" is available for sale online at Amazon.com and other channels.
About the Author:
Sharkie Zartman is a former All-American volleyball athlete and champion competitor at UCLA and with the U.S. Women's National Volleyball Team. She also competed in the Women's Professional Volleyball Association for five years. As a coach, she led El Camino College to nine league and two state titles, and with her husband, Pat, she helped the South Bay Spoilers club team get to the national championship multiple times. She holds degrees in kinesiology and instructional technology. She teaches health and fitness at El Camino College and hosts "Sharkie's Pep Talk" on Healthy Life.Net Radio. This is her fifth book.
Web:http://www.soyouthinkyoucancoachkids.com
REVIEW COPIES AND INTERVIEWS AVAILABLE