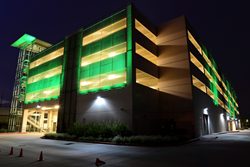 'The transparent and reflective qualities of woven metal mesh make it ideal for parking facilities,' said Gary Compton, Cambridge Architectural Brand Manager.
Cambridge, Maryland (PRWEB) May 12, 2014
Parking structures -- once considered the "ugly ducklings" of building design -- are now rising to become visually appealing additions to city and campus skylines as architects use metal mesh to transform and illuminate their exterior facades and create a canvas for corporate branding, lighting design, and public art.
Cambridge Architectural, the world's leading full-service provider of sustainable architectural mesh systems for both exterior and interior commercial building applications, has seen its parking business grow as a result.
The company recently supplied custom designed stainless steel mesh and attachment systems for garages at Winnipeg's McPhillips Station Casino and Baptist Medical Center in Jackson, Mississippi and is currently working on a parking structure at 275 Wyman Street in Waltham, MA.
Other prominent parking projects for Cambridge in recent years include Awty International School in Houston and Cincinnati Children's Hospital Medical Center.
"We are seeing an increasing number of architectural firms coming to Cambridge on parking facility projects because they value our expertise in handling large installations and appreciate our ability and willingness to provide customized solutions," said Gary Compton, Cambridge Architectural brand manager. "Architects prefer our large-weave flexible mesh patterns because they can be seen from a distance and unlike finer screens, they don't blend into the design."
In recent projects, architects have used Cambridge mesh to achieve a variety of design objectives, including sculpting the exteriors of a parking structure and adjacent buildings to integrate architecture and create a common look, and using lighting to illuminate mesh panels on garages in school and corporate colors.
Compton says Cambridge mesh also provides solutions for many key functional issues architects must consider when designing parking structures including solar shading, ventilation of exhaust fumes, headlight attenuation, and fall protection.
"The transparent and reflective qualities of woven metal mesh make it ideal for parking facilities," he said. "The openings in the mesh allow for air flow and daylighting while providing shading from intense sunlight. By night, the mesh allows views into the garage while reducing the glare of car headlights to the outside."
Cambridge offers a wide variety of woven mesh patterns and patented attachment systems for mounting the mesh to the parking structure. Patterns range from small weaves like Mid-Shade to large weaves like Pellican allowing for design flexibility.
A look at more than a dozen Cambridge Architectural parking projects is available at http://www.cambridgearchitectural.com. Most recent projects include:
McPhillips Station Casino, Winnipeg, Manitoba
Cambridge Architectural provided Balance mesh (Stainless T316) for the new 17,675-foot South Parkade at the McPhillips Station Casino, operated by the Manitoba Lotteries Corporation (Government of Manitoba). The mesh provides transparency and a progressive look to the open-air garage facade. Aluminum bars in a criss-cross pattern are incorporated behind the mesh as a visual element to enhance the design and for structural mounting of LED lighting capable of illuminating the garage. The mesh satisfies safety and security requirements for fall protection. A casino expansion is currently underway which will also incorporate Cambridge mesh on the façade.
Architect: numberTEN Architectural Group
Contractor: Manshield
Installer: Flynn Canada, Ltd.
Completion Date: Dec. 2013
Baptist Medical Center
Cambridge Architectural provided Mid-Balance mesh (Stainless T316) and its Eclipse attachment system for the new seven-level, 836-space parking garage at Baptist Medical Center in Jackson, Mississippi. Unlike other building materials, the mesh allows views and ventilation in this open structure and provides solar shading, fall protection, and headlight attenuation facing the street below.
Architect: Christopher Kidd & Associates
Contractor: Harrell Contracting Group
Installer: Cambridge Architectural
Completion Date: Dec. 2013
Awty International School, Houston
Cambridge's Mid-Balance mesh pattern and Eclipse attachment system were specified by Bailey Architects to create multiple vertical panels that cover the open areas of this parking facility at the largest international prep school in the United States. The five-story, 174,000-square-foot garage offers 440 spaces for students, faculty, staff, and visitors. LED lighting illuminates the mesh panels in Awty's school color (green). The stainless mesh offers protection from harsh sunlight and allows airflow while maximizing views of the campus.
Architect: Bailey Architects
Contractor: Ellipse Builders
Completion Date: 2012
Cincinnati Children's Hospital
A Cambridge Parkade™ architectural mesh system fabricated with mesh in Cambridge's Stripe and Mid-Balance pattern clads this Top 10 pediatric institution's parking garage in a revolutionary basket weave design to provide dynamic aesthetics, impressive durability, and reliable security. The unique design features both longitudinal and latitudinal curves of woven metal fabric and gives the eye-catching façade a unique and experimental look. Cambridge worked closely with the architect to develop custom structural framing for this large and visually impressive installation.
Architect: DNK Architects, Inc.
Contractor: Al. Neyer, Inc.
Installer: ProCLAD, Inc.
Completion Date: 2009
About Cambridge Architectural
Cambridge Architectural, a division of Cambridge International, is the most experienced full-service provider of sustainable architectural mesh systems for both interior and exterior building applications. As the world leader in tensioned mesh systems, Cambridge Architectural metal fabric solutions lend unique aesthetic appeal, functionality, affordability and sustainable benefits to a variety of structures interior and exterior. Cambridge Architectural offers full system design, engineering and collaboration from concept through installation – in the most challenging building environments and under the strictest budgets. Cambridge Architectural metal fabric systems are categorized by the primary applications they serve, including parking structures, exterior shades, facades, canopies, curtains, and others. As a member of the United States Green Building Council, Cambridge Architectural is committed to promoting methods, technology, and products resulting in environmentally responsible and healthy buildings. The Cambridge Architectural team develops systems that meet or exceed LEED requirements and provides consultation and direction on a project-by-project basis. Visit http://www.CambridgeArchitectural.com for more information.