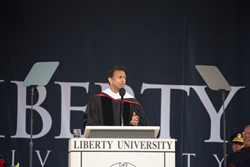 Lynchburg, VA (PRWEB) May 11, 2014
As the Class of 2014 celebrated Liberty University's 41st Commencement Ceremony, they were reminded of the road ahead, and the opposition they will face. Though the world is growing increasingly hostile toward the values and liberties they hold dear, they were pointed to their ultimate hope in God, who gives grace and power to overcome. With that in mind, they were encouraged to boldly be a light into the darkness of this world.
"You should be bold in your faith and embrace opportunities to stand up for the truth," Louisiana Gov. Bobby Jindal, the keynote speaker, charged the graduates. "You never know when you might be planting a seed that will change someone's life forever."
President Jerry Falwell echoed this challenge as he conferred nearly 17,800 degrees to Liberty's largest graduating class: "You should not find satisfaction with the commonplace in character, attitude, and values; by your example, you should raise the intellectual and moral tone of society."
This includes faith in God, integrity, and respect for your fellow man.
There were about 35,000 guests in attendance at Williams Stadium, — including more than 6,000 graduates.
Some loved ones were unable to attend, however. Falwell called attention to Malory Mallery, who traveled from Kansas to receive her associate degree in Psychology. Her husband, U.S. Army Sgt. Mark S. Mallery, currently stationed in Afghanistan, surprised his wife with a video message congratulating her and expressing his sorrow for having to miss the occasion. Malory was so overwhelmed with emotion that in the moment she fell to her knees in tears.
Falwell expressed Liberty's dedication to uphold the values and freedom Sgt. Mallery is currently fighting to protect. He explained the significance of the Baccalaureate and Commencement services, which the university uses every year respectively to focus first on God, and then on America, which was founded on freedom and equality.
He said Liberty has left a lasting impression on those who have visited its campus, even those whose beliefs don't mirror those upheld by the university.
"One reason that our Liberty community … are more respectful and more willing to listen to those who have different viewpoints is because we are confident in what we believe," he said. "If you fervently believe something and have confidence in your faith and in your worldview, you don't feel threatened by contrary opinions."
Falwell then recognized two individuals for their part in upholding American values: Gov. Jindal and the Hon. Lacey Putney. The university presented each with an honorary Doctor of Humanities degree.
Putney served consecutively from 1962 to 2013 in the Virginia House of Delegates, making him the longest-serving member in the history of the Virginia General Assembly.
Putney said that no honor he has ever received is equal to the one bestowed upon him by Liberty.
Jindal, a Brown University Graduate and Oxford University Rhodes Scholar, has worked as a consultant for Fortune 500 companies, as Secretary of the Louisiana Department of Health and Hospitals, executive director of the National Bipartisan Commission on the Future of Medicare, president of the University of Louisiana System, and was appointed by President George W. Bush to serve as Assistant Secretary for the U.S. Department of Health and Human Services. He has also served in the U.S. Congress.
Now in his second term as governor, Jindal is known for leading Louisiana in its reform of ethics laws, eliminating taxes that deterred investment, for setting all-time employment records in the state, for instituting the statewide school choice scholarship program, and for making strides in transforming Louisiana's health care system.
In his speech, Jindal commended the graduates for their achievements and cautioned them of the future.
Though the intellectual elite have pushed God out of the equation, Jindal said that doing so only pushes people further from the truth.
"Reason and logic lead to truth, which means that reason and logic lead to God," he declared.
But as liberal elitists continue to vehemently oppose this position, Jindal said a war on liberty is at hand, and the implications are dire. He shared examples of how the personal expression of religion is being attacked in business, on television, and in the courts.
He said understanding that man is a created being, and that God — not government — grants rights, is essential for the very existence of this country.
"This diversity of belief is the foundation of our law and Constitution," Jindal said. "America does not sustain and create faith. Faith created and sustains America. America did not invent religious freedom, religious freedom invented America."
He said those waging war on religious expression today would have America believe that "religious freedom means you have the freedom to worship, and that's all."
"In this misbegotten and un-American conception of religious liberty," he explained, "your rights begin and end in the pew."
To the contrary, he declared, "We have the right to practice our faith and protect our conscience no matter where we happen to be."
Jindal said that religious liberty should never be linked to public opinions, which are ever-changing.
"We must understand that our freedom of conscience protects all Americans of every persuasion — however those persuasions may evolve."
"Our liberties in America demand equal protections for all."
He urged the graduates to never see themselves as victims, though it seems "Christians are the last group that it is OK to discriminate against in America." He encouraged them to take hope in the fight, reminding them, "If God is with us, who can be against us?"
About Liberty University
Liberty University, founded in 1971, is the largest private, nonprofit university in the nation, the largest university in Virginia, and the largest Christian university in the world. Located near the Blue Ridge Mountains on more than 7,000 acres in Lynchburg, Va., Liberty offers more than 350 unique programs of study from the associate to the doctoral level. More than 180 programs are offered online. Liberty's mission is to train Champions for Christ with the values, knowledge, and skills essential to impact tomorrow's world.