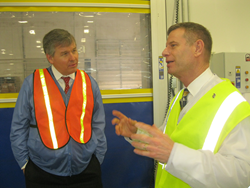 PartnerTech is doing phenomenal work and have only asked that we do what we can in Washington to encourage America's manufacturing economy.
Atlanta, Georgia (PRWEB) May 20, 2014
PartnerTech Inc., a major systems integration and mechanics manufacturer, welcomed Congressman Woodall on a tour of their expanded facility and to offer the Congressman an opportunity to be better acquainted with businesses in the community. Congressman Woodall takes an active role in getting to know the businesses in his district. And, PartnerTech Inc. was pleased to share the successes and challenges they have experienced over the last few years in this location.
Georgia has many positive attributes, making it an ideal location for manufacturing. Georgia has the third lowest unionization rate in the US, a customized training program, Quick Start training program for the manufacturing industry, and a low employment turn over rate as a right-to-work state. In addition, Atlanta is strategically located for distribution by air, sea, rail or highway. These attributes make Georgia especially attractive for manufacturers looking to re-shore.
Manufacturers are reshoring to the U.S. with the hope of finding more agile manufacturing processes, quicker entry into North American markets and more economical distribution. This is accomplished with help from postponement manufacturing expertise as demonstrated by PartnerTech and from economic policies that allow freedom for growth. As recent research has shown, there are many positive signs of growth in manufacturing in the U.S. in the last few years and with support from Washington we will see that continue. The 2013 FDI Confidence Index revealed that foreign investors now consider the U.S. the most attractive destination for future investment opportunities. But part of the reason for that outlook is based on the ability for the traditional strengths of the U.S. economy, innovative and highly adaptive, to continue unimpeded by political policies.
"When business owners and entrepreneurs succeed, so do our communities. That's why I focus so much time visiting businesses in the district when I am here. PartnerTech is doing phenomenal work and have only asked that we do what we can in Washington to encourage America's manufacturing economy. We share that goal and I know that a one-size-fits-all Washington policy is not the solution to bringing those manufacturing jobs home. The best action Congress can take is start removing the impediments to manufacturing and allow job creators the freedom to grow their businesses and grow our workforce. We're lucky to have these folks here in Gwinnett County."– Congressman Woodall.
PartnerTech's customers continue to see the economic and logistic benefits of establishing a North American supply chain. Because of this, PartnerTech anticipates future growth as an electronic manufacturing services provider to U.S. companies and foreign investors looking to optimize the many advantages of postponement manufacturing.
About PartnerTech
A Trusted Industrial Partner, PartnerTech develops and manufactures products on behalf of leading businesses in the market areas of Defense and Maritime, Industry, Information Technology, MedTech & Instrumentation, CleanTech and Point of Sale Applications. With almost 1,400 employees at its plants in Sweden, Norway, Finland, Poland, the UK, the United States and China, PartnerTech reports annual sales of more than SEK 2.2 billion (approx. $335MM). PartnerTech AB, the parent company, is headquartered in Malmö, Sweden, and is listed on the Nasdaq OMX Stockholm Exchange.
PartnerTech Inc., located in Atlanta, GA, is a wholly owned subsidiary of PartnerTech AB of Sweden and offers expertise in electronic manufacturing services and postponement manufacturing, making them an obvious choice for companies seeking to lower costs through better forecasting, supply chain alternatives, efficiencies, in distribution and management of capital investments. Services are tailored to fit the needs of each client, with regard to scaling production, shipping expertise and sourcing methods.