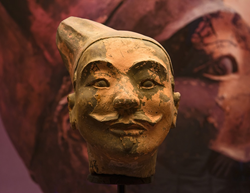 Visit China without a passport and experience the real Terra Cotta Warriors of Xian while building your own clay soldier. At the same time explore the and enjoy the culture of modern day China at the world's largest children's museum.
Indianapolis, Indiana (PRWEB) May 11, 2014
The Children's Museum of Indianapolis, transformed into a vibrant, authentic, Chinese experience with two extraordinary, interactive exhibits that opened today, May 10, 2014.
Rare and priceless Terra Cotta Warriors, buried for centuries in China, settled comfortably into the world's largest children's museum following years of planning and preparation on both sides of the ocean. Now, it is time to call members of this army to attention in the only place they will be seen in the United States in 2014, The Children's Museum of Indianapolis.
Terra Cotta Warriors: The Emperor's Painted Army, directly from Shaanxi Province explores the science behind this vast tomb complex with its estimated 8,000 life-size clay soldiers and other ancient artifacts believed to have been ordered by China's first emperor, Qin Shi Huangdi, to protect him in the after-life.
This "Eighth Wonder of the World" as many call it, was discovered in 1974 by farmers digging a well in search of water. Since then, very few of the Terra Cotta Warriors have been released from China at any one time. Eight of the magnificent soldiers, along with 118 additional other authentic artifacts (some gold and bronze) are featured in this interactive exhibit that encourages visitors of all ages to become investigators.
Scientists are confident Emperor Qin's underground statues were originally vibrantly painted; but as they are unearthed, the colors vanish before the eyes of the archaeologists. Children and families will learn what causes the paint disintegration, and what new technology is used to preserve it. The engaging exhibit runs from May 10, 2014 through November 2, 2014. Learning more about Chinese culture, tradition and modern living is what visitors can expect when they explore Take Me There:® China.
In Take Me There: China, one of the largest exhibits exploring contemporary China ever produced in the U.S., visitors will "fly" over the Great Wall of China, "land" in Beijing and embark on a journey through modern life in the world's fastest-growing nation. This exhibit is semi-permanent and will remain open for the next three years.
Visitors will explore daily life and the celebrations of Chinese families through the arts, music, language, transportation, housing, food, tea culture, calligraphy, ancient Chinese medicine, and the preservation of giant pandas.
During the next three years, this exhibit will enthrall visitors with always changing live performances and demonstrations by Chinese artists demonstrating martial arts, music, calligraphy, shadow puppetry and much more.
"By having these two exhibits open simultaneously, we will offer visitors the opportunity to explore some of the most historically valuable artifacts in history via the Terra Cotta Warriors, while nearby experiencing modern day China and its connections to its extraordinary past. We find there is intense interest about China as the most populous country in the world as it rapidly evolves into one of the leading global manufacturing countries," said Dr. Jeffrey H. Patchen, president and CEO, The Children's Museum of Indianapolis.
"Our two great countries are now working together to build a new model of relationship characterized by no confrontation, no conflict, mutual respect and win-win cooperation," said H.E. Cui Tiankai, China ambassador to the United States. "The real foundation for this relationship lies in mutual understanding and friendship between our two peoples. And nothing could better help us reach that goal than cultural exchanges, especially learning and knowing more about each other between the children of the two countries."
Just this week, The Children's Museum of Indianapolis received the nation's top honor when First Lady of the United States Michelle Obama presented the museum with the 2014 National Medal for Museum and Library Service.
Video of Take Me There: China https://vimeo.com/childrensmuseum/review/94570131/24407285f0.
Video of Terra Cotta Warriors: https://vimeo.com/childrensmuseum/review/94569896/11f5048c7b.
Magical performers: https://vimeo.com/childrensmuseum/review/94569617/890cbc39a4.
Terra Cotta Warriors:
The Emperor's Painted Army is presented by Eli Lilly and Company Foundation. Take Me There:®China is made possible by lead gifts from Lilly Endowment, Inc., Eli Lilly and Company Foundation, The Lilly Family, Mrs. Yvonne Shaheen, Sarah and John Lechleiter, the U.S. Institute for Museum and Library Services, Jane and Steve Marmon, Susan and Jim Naus, and Polly Hix.