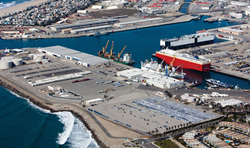 Port of Hueneme, California (PRWEB) May 11, 2014
A Port of Hueneme trade delegation takes off for Latin America on Sunday, May 11, 2014 with visits to Peru, Ecuador, and Chile. The delegation's scheduled return is Wednesday May 21. The trade mission promises to serve as a catalyst for increased trade by putting the Port in direct contact with global partners and existing and prospective customers. Importantly, the Port's trade mission aligns with President Obama's "Look South Initiative," a recent initiative launched to make U.S. companies aware of emerging trade opportunities in Latin America and understand the resources available to help them penetrate these markets.
To track where the Port is heading next and keep pace with the important developments of the Port of Hueneme trade mission, visit http://www.portofhueneme.org and click on Track The Port's Trade Mission to Latin America!
The Port of Hueneme is one of the most productive and efficient commercial trade gateways for niche cargo on the West Coast. The Port is governed by 5 locally elected Port Commissioners. The Port moves $8 billion in goods each year and consistently ranks among the top ten U.S. ports for automobiles and fresh produce. Port operations support the community by bringing $1.1 billion in economic activity and creating 10,226 trade-related jobs. Trade through the Port of Hueneme generates more than $69 million in annual state and local taxes which funds vital community services.
We Make Cargo Move!