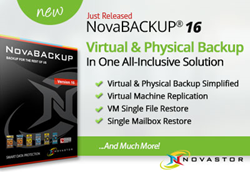 NovaStor provides great benefits to partners that we can then pass through to our customers. With NovaBACKUP Business Essentials, we minimize their investment, without compromise to the features they require and the level of risk they need to take.
Agoura Hills, CA (PRWEB) May 13, 2014
NovaStor, an international provider of award-winning backup solutions, announced today that they have expanded on their "Backup for the Rest of Us" campaign with the release of NovaBACKUP Version 16. NovaBACKUP version 16 focuses on providing small businesses the only backup solution they need for protecting their critical data in both Physical and Virtual environments.
"We're very pleased with what we have been able to accomplish with the release of NovaBACKUP 16. We have cast a wider net into the small business market and provided customers with the only, single solution that they need to cover both their Physical and Virtual backup environments, says Mike Andrews, Managing Director at NovaStor. With Veeam and Symantec, you're forced to purchase several, more costly solutions to accomplish what we're offering, and with Veeam, the option to backup physical data is not even available."
Based on survey recommendations in the marketplace and feedback from thousands of NovaStor Reseller partners, NovaStor also introduces a more robust NovaBACKUP Business Essentials product as their core small business product offering that's scalable and enhanced to meet the direct needs of small business owners. Recognized as a leader in the Physical Backup industry, NovaBACKUP Business Essentials now includes newly designed Virtual Backup support that's required by small businesses, and bridges the gap on market leaders Veeam and Symantec by offering a single user interface, providing a platform without unnecessary features, and reducing the complexity of installation.
New available features in NovaBACKUP Business Essentials include:

All-in-One Physical and Virtual backup - supports Physical and Virtual environments from a single license, single installation and single interface.
Virtual Dashboard - manages both Hyper-V & VMware virtual backups from a single platform with advanced backup tasks in just a few clicks.
Single File Restore - the ability to restore a single file from a virtual machine rather than restoring the entire machine.
VM Replication - easily duplicates Hyper-V and VMware virtual machines for testing, upgrading hardware and disaster recovery purposes.
Granular (Single Mailbox) Restore for Exchange - restores individual mailboxes or emails rather than an entire Microsoft Exchange database.
"This is a substantial release from NovaStor and I can't wait to start offering this solution to my customers, says Philip J. Michel, President at MAC Computer Services. "NovaStor provides great benefits to partners that we can then pass through to our customers. With NovaBACKUP Business Essentials, we minimize their investment, without compromise to the features they require and the level of risk they need to take."
NovaBACKUP Version 16 pricing ranges from $49.95 (single workstation backup) to $1,499.95 (multiple server environments with Central Management). NovaBACKUP Business Essentials is available at a highly disruptive price of $599.95. This pricing also includes the following NovaStor unmatched customer service and support, including free consultation and installation, a full year of local technical support from a highly trained NovaStor employed backup expert, product upgrades, and a risk-free, 30-day money back guarantee.
IT Resellers are invited to become a NovaStor ValueCREATE! partner, and start testing NovaBACKUP in your environment today. Visit http://www.novastor.com/partner
About NovaStor
NovaStor® (http://www.novastor.com) is an international provider of powerful, affordable, all inclusive data-protection solutions for physical and virtual environments. NovaStor provides backup & restore solutions to Small and Medium Business (SMB) as well as Enterprise environments to protect data on Both Sides of the Cloud. NovaStor's SMB solution NovaBACKUP® is rated #1 for businesses requiring local and remote protection of Windows Servers, VMware, Hyper-V and NAS environments with advanced monitoring capability, detailed reporting, and administration from a Central Management Console. NovaStor's Enterprise solution NovaBACKUP DataCenter brings F500 references, scalability, reliability and speed to medium-large heterogeneous environments; a single pane of glass designed to reduce administrative effort and lower TCO. NovaStor' Setup Assistance is an industry first where experts relieve clients from the complexity of installation and support. NovaStor is management-owned with over 5,000 partners, and millions of seats distributed. With global headquarters located in Zug, Switzerland and offices in Germany (Hamburg) and the USA (Agoura Hills), NovaStor is also represented in numerous other countries through partnerships.
MAC Computer Services is a part of the MAC Companies, specializing in IT services and medical office automation.