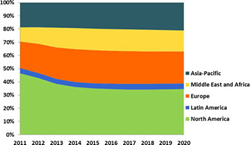 Outcry from social networks and new nedia forces governments to invest billions in less lethal weapons
Washington D.C. (PRWEB) May 13, 2014
According to the Non-Lethal Weapons Industry, Technologies & Global Market – 2014-2020 report, following lessons learned in Ukraine, Syria, Egypt, Israel, China and Afghanistan, governments worldwide have undoubtedly understood the urgent need for non-lethal weapons. Asymmetric warfare, street riots, insurgency and mass demonstrations over the last decade have revealed the loopholes in the security dogma of the 21st century.
There is a growing demand from combatant commanders, law enforcement officers and political establishment for less lethal weapons capabilities. This demand is driven by the need to help them win the hearts and minds of the non-combatant population and prevent world outcry and media attention due to non-combatant casualties. As a result, many governments have entered into non-lethal weapons R&D and procurement dedicated to the full spectrum of public safety, law enforcement, crowd control and asymmetric warfare. In view of these changes in the field, technological advances have facilitated the development of new types of non-lethal weapons.
The use of non-lethal weapons (NLW) provides a set of moderate options in cases of violent conflicts between the uses of diplomacy and psychological means and the use of lethal force. NLW provides a valuable alternative for law enforcement and military commanders to use less-lethal means between the other options of "Shout and Shoot". Non-lethal weapons provide flexible options to avert violent scenarios by creating time and space, controls level of violence and fills the gap in the options between diplomatic and lethal force.
The "Non-Lethal Weapons: Industry, Technologies & Global Market - 2014-2020" report is a comprehensive study of the emerging NLW market. In this report, HSRC analysts forecast that due to accelerated CAGR of 11% from 2014-2020, the NLW market will double by 2020.
With 425 pages, 131 tables and 126 figures, the report analyzes in detail the multibillion-dollar global Non-Lethal Weapons market, industry and technology trends. The report analyzes each and every dollar of the industry's revenues and provides data and analysis on 89 submarkets including 2011-2013 submarket data and 2014-2020 forecasts and analyses. The report addresses the "money trail" via 5 viewpoints:

5 geographical regions
17 countries
2 vertical markets
4 application-technologies
Products & ammunition pricing
Explore more Homeland Security and Public Safety Reports at http://www.homelandsecurityresearch.com/reports/.
About Homeland Security Research Corp.(HSRC)
HSRC is a Washington, D.C. based international market research and strategic consulting firm serving the Homeland Security and Public Safety communities. HSRC provides premium market, present & emerging technologies and industry expertise, enabling our global clients to gain critical insight into the business opportunities that exist within the Homeland Security & Public Safety markets. Government clients include the U.S Congress, DHS, U.S Army, U.S Navy, NATO, U.K, Japan, Korea, Taiwan, Israel, Canada, Germany, Australia, Sweden, Finland, and Singapore; DOD, DOT, GAO, and the EU are among others. HSRC serves over 650 private sector clients, including all major defense and security contractors and many Fortune 500 companies. 70% of our reports are acquired by repeat customers.