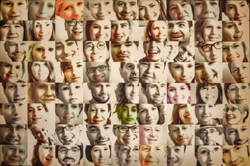 The I Love You Project celebrates diversity and brings people together.
Brooklyn, NY (PRWEB) May 13, 2014
Brooklyn visual artist Debbie T. Davies will exhibit over 300 microscope portraits of residents from Barcelona, Frankfurt, Giessen, and Berlin during the Bushwick Open Studios annual event. The portraits are part of The I Love You Project, a global social-art initiative celebrating diversity.
The outdoor exhibition will take place on the estate of The Vander Ende-Onderdonk House in Ridgewood, NY.
This will be the first time the photography has been shown in the USA. Davies uses a digital microscope camera – actually a child's toy – to capture blurry and unconventional portraits and video of people saying "I Love You" in different languages. The photos were shot over a 3 year period in Raval (Barcelona), Bockenheim (Frankfurt), Giessen, and Neukölln (Berlin, during the 48-Hour Neukölln Festival).
Germany-based Sound artist Julius Schön recorded the participants' voices saying "I Love You" along with snippets of conversation and laughter, and composes a soundtrack that uses these voices and sounds combined with original music for a video. The soundtrack from the completed videos will play during the exhibition, for an immersive experience..
The Vander Ende-Onderdonk House, located in Ridgewood on the border of Queens and Brooklyn, is the oldest Dutch Colonial stone house in New York City, built in 1709. It is a reminder of the diverse origins of this community, and a perfect place for The I Love You Project.
This is the 8th year of the Bushwick Open Studios event which will take place Friday May 30 thru Sunday June 1.
The I Love You Project Exhibition:
Friday May 30 5pm-8pm
Saturday May 31 11am-6pm
Sunday June 1 11am-6pm
Location: The Vander Ende-Onderdonk House 1820 Flushing Ave, Ridgewood, NY 11385
Getting there: Bus Q-54 passes and stops two blocks away at the intersection of Flushing and Metropolitan Avenues. Bus B-57 passes the house on Flushing Avenue. "L" subway line to Jefferson Street (Brooklyn) stop; proceed five blocks North (right) along Flushing Avenue. On street car and bike parking is available, plentiful and free.