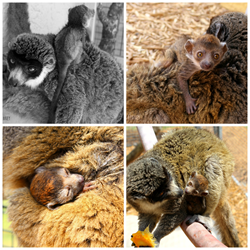 "With almost 94% of all lemur taxa… now classified as being threatened with extinction, this status review indicates that lemurs are probably the most endangered mammal group worldwide." Lemurs of Madagascar: A Strategy for their Conservation 2013-201
Myakka City, Florida (PRWEB) May 14, 2014
Kikeli, a critically endangered Mongoose lemur gave birth to the first infant of 2014 at Lemur Conservation Foundation. Kikeli's new infant is starting to climb around on mom a lot, and is reaching out to one-year-old brother, Silvio, and dad Felix.
Silvio and Felix are both very interested in the new addition to their family group, and have groomed the infant while it holds onto its mother. With such a young infant, Kikeli is being a good, protective mother and only allows the males brief contact with the baby.
In the four years between 2008 and 2012, the International Union for the Conservation of Nature (IUCN) increased the conservation status for Mongoose lemurs from vulnerable to critically endangered.
The IUCN and the Species Survival Commission organized the Lemur Red-Listing and Conservation Planning Workshop in July of 2012. Participants met to review the status of all 103 known species of lemurs, concluding that lemurs are among the most endangered species in the world.
In 2013, all 3 Mongoose lemur infants born in the United States were born to LCF mothers.
About Lemur Conservation Foundation:
The Lemur Conservation Foundation was established in 1996 by Penelope Bodry-Sanders. LCF is a leader in the conservation and preservation of the primates of Madagascar through programs dedicated to scientific research, education, and lemur propagation, with a commitment to infuse art into all of our mission programs. LCF is an American Association of Zoological Parks and Aquariums accredited private, 100-acre facility based in Myakka City, Florida. Our current lemur population of 45 animals thrives in naturalistic free ranging habitats ranging in size from 9 to 13 areas.
LCF is a respected voice for science, conservation, education, art, and lemurs, the iconic image of the conservation challenges and environmental stewardship facing Madagascar and the world.