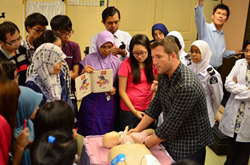 Las Vegas, NV (PRWEB) May 13, 2014
In an effort to inspire communities to save lives, an ongoing goal of Dr. Karl "Fritz" Disque, National Health Care Provider Solutions coordinated with St. John's Ambulance to present fundamental information to train those in Malaysia on proper CPR practice. St. John's Ambulance, a volunteer ambulance service, corresponded with one of the most esteemed universities of Malaysia to train 80 residents proper CPR training. Fritz prepared a visually aesthetic presentation along with hands-on experience to the Malaysia University of Science and Technology.
Fritz's goal of the demonstration was to not only teach the 80 residents there, but more significantly to promote and expose the expertise and information obtained by these citizens to other members of the community. National Health Care Provider Solutions provides medial professionals with online Advanced Cardiac Life Support (ACLS), Pediatric Advanced Life Support (PALS), and Basic Life Support (BLS) certification and recertification programs.
The focus of the demonstration and presentation emphasized out of hospital care survival, diseases in Asia, the importance of online CPR training, and methods to remember and properly practice CPR and AED techniques.
Along with Fritz were five faculty members who filmed the presentation on iPads to share the footage with others who could not attend the presentation. The students of University of Malaysia of Science were evidently encouraged and remarkably excited about the training and information they received from Fritz. National Health Care Providers Solution's goal is to motivate others to save lives has, and will continue, to be represented by Fritz.
About NHCPS
National Health Care Provider Solutions (NHCPS) is the premier online provider of ACLS, PALS and BLS Certification and Recertification for health care professionals.
NHCPS is the very definition of a socially conscious company. All proceeds from the NHCPS support the efforts of the Disque Foundation, a nonprofit organization with a mission of advancing health care education to the underserved both domestic and abroad. With the support of NHCPS, life support training has been made possible to the underserved in areas such as Haiti, Ethiopia, Malaysia, Costa Rica, Panama, and the United States.
For more information please visit nhcps.com.