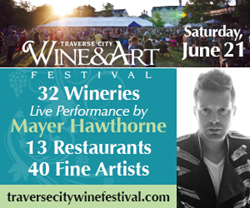 There are several fun and exciting things planned for this year's festival," shares Lorri Hathaway, Director. "Attendees enjoy an authentic culinary experience of local wine and food while enjoying quality art, live musical performances and more.
Leelanau Peninsula, Michigan (PRWEB) May 12, 2014
The 2014 Traverse City Wine & Art Festival presents a new and improved event for its 6th year. This year's festival, to be held at the Village at Grand Traverse Commons on Saturday, June 21, celebrates regional wine, food and culture of northern Michigan. More than 5,000 people will join the festivities, which includes several new additions such as a VIP party and lounge, a wine education tent, a second music stage and a juried art show with best of show and people's choice awards.
"There are several fun and exciting things planned for this year's festival," shares Lorri Hathaway, Director. "Attendees enjoy an authentic culinary experience of local wine and food while enjoying quality art, live musical performances and more."
The Traverse City Wine & Art Festival hosts wineries from Leelanau Peninsula, Old Mission Peninsula, Traverse City and other regions of northern Michigan featuring over 100 white, red and sparkling wines… and a little hard cider. This is a rare opportunity to samples wines from 32 different wineries – located all in one place.
In addition, the wine education tent hosted by The Wine Counselor will include four sessions: "Getting Naked with Chardonnay" (exploring the difference of oak vs stainless steel aging), "Riesling: We're Really Not That Sweet" (discovering the range of Riesling from sweet to dry), "Sideways" (a regional tasting of Pinot Noirs) and "See, Swirl, Sniff, Sip, Savor" (exploring the basics of wine tasting). Schedule and wine offerings to be announced shortly.
"The Traverse City area is making world-class wines," states Michael Schafer, the Wine Counselor. "We'll explore how to really taste wine as we Swirl, Sniff, Sip, Savor, discover the range of Rieslings, explore different styles of Chardonnay and go sideways with a horizontal tasting of Pinot Noir. Bring your questions! Looking forward to seeing you there."
A second brand-new addition to the festival line-up is the VIP Party. Included in the $125 ticket is entry to the festival with a sparkling wine welcome, wine by the glass, catered food and complimentary water bottles. Enjoy an exclusive lounge area and use of upscale portable restrooms with separate stalls and sinks. In addition, you'll have an opportunity to mingle with musical performers and winemakers. This is all included with general festival admission which includes all-day live musical entertainment and a commemorative wine glass. Sponsored by Brick Packaging, the VIP Party is a red-carpet affair attendees won't want to miss.
The festival has always had great success with musical line-ups, including headliners Rusted Root and Rodriguez in recent years past. This year, the committee is proud to offer the musical stylings of six Michigan natives, ranging from smooth jazz with Phil Denny to modern Motown-inspired songs from this year's headliner, Mayer Hawthorne. Main stage acts also include The Crane Wives, back by popular demand, and The Mainstays, formerly Funktion.
New to the music scene this year is a second stage featuring local northern Michigan musicians Samantha Crawford and The Accidentals as well as the northern Michigan debut of Jordon Taylor, an acoustic performer hailing from Jackson. Rick Coates of KLT's Omelette and Friends is the emcee for the evening.
In addition, this year's festival includes more art than ever. With over 40 fine artists on the festival grounds, attendees will have a hard time tearing themselves away from the art garden this year. This year's show is juried and includes prizes for Best In Show and People's Choice, as well as the opportunity for purchasers to check their art so that they can enjoy the festival while resting assured that their new treasure is being kept safe and protected.
Along with increasing the number of upscale artists at the festival, attendees will enjoy more food options. Fourteen restaurants offering a wide array of cuisine showcases the breadth of culinary opportunity in northern Michigan. Participating restaurants include Trattoria Stella, The Towne Plaza, Poppycock's, PepeNero, The Boathouse ,Bourbons 72, Little Bohemia with representatives from their brick-and-mortar restaurants onsite; food trucks Anchor Station, Harbor on the Side (Harbor 22), Pigs Eatin' Ribs and SEEDS Wood-Grilled Pizza. The Sodexo chefs at Grand Traverse Pavilions will also be offering iced chai smoothies.
As always, this festival would not be possible without the generosity of our sponsors:
VIP Party Sponsor: Brick Packaging
Entertainment Sponsor: Turtle Creek Casino
Food Court Sponsor: DAYCLUB @ West Bay Beach
Tent Sponsor: Hagerty Insurance
Merchandising Sponsor: High Five Threads
Venue Sponsors: The Village at Grand Traverse Commons and Grand Traverse Pavilions
Media Sponsors: KLT the Rock Station, MyNorth.com, Michigan Home and Lifestyle Magazine, Traverse Bay Family Magazine and Northern Express
Trade Sponsors: SEEDS and Elmer's
Friends of the Festival: Leelanau Vacation Rentals and HomeWaters Recreational Real Estate
Last year, tickets sold out a month prior to the event, so interested festival-goers are encouraged to get their tickets soon.
More information and tickets are available at http://www.traversecitywinefestival.com.
The Traverse City Wine & Art Festival is an annual event established in 2009 to showcase the region's wine, food and culture. The event is hosted by the Leelanau Peninsula Vintners Association (LPVA), a member-driven organization consisting of 25 wineries along the Leelanau Peninsula Wine Trail.