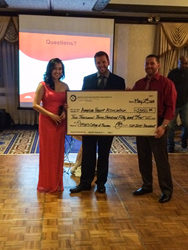 "Heart disease affects hundreds of thousands of women yearly, this could be your sister, mother, daughter, friend, or family member. With knowledge and motivation, women can work together to end the disease." - Fritz
Las Vegas, NV (PRWEB) May 15, 2014
Dr. Karl "Fritz" Disque, Chief Medical Officer of National Health Care Provider Solutions, presented and spoke at Rosalind Franklin University of Medicine and Science to an audience of over 170 pharmacy school faculty along with first, second, and third year students. The inaugural Have a Heart Banquet supported and donated all proceeds from fundraising to the American Heart Association, specifically affecting Go Red For Women to inspire and support awareness for women and heart disease. Following the entertainment, dinner and raffle, Dr. Disque, an AHA associate board member and speaker, encouraged the attendees to continue to be advocates in their community and raise awareness of the issues behind women and heart disease.
What Are The Goals?
Cardiovascular disease claimed the lives of nearly 500,000 American women yearly; despite the fact it has historically been recognized as an older man's disease. To dismiss myths and raise awareness of heart disease as the No. 1 killer of women, Dr. Disque and the American Heart Association use passion, inspiration, and social initiatives to motivate women to take control of their health. Heart disease is a worldwide problem, and Go Red For Women encourages women to stand and fight together, not alone. At the Have a Heart Banquet, the pharmacy school faculty and students fundraised and contributed all proceeds to support research, greater communication, education, and instruction for all women affected by heart disease.
Dr. Disque 's presentation included staggering, statistics, facts, and insights into how cardiovascular disease affects women. He also spoke about the diversity and global impacts of Go Red for Women, with the multicultural efforts of Go Red Por Tu Corazón, a bilingual program that aids Latinas with heart disease, and across the globe in more than 65 countries.
Dr. Disque and the AHA have seen the impacts of Go Red for Women in women's homes through NBC networking, the doctor's office with "Get with the Guideline," on Capitol Hill with The Heart for Women Act, and in women's hearts. The Rosalind Franklin University pharmacy students and staff, and Dr. Disque have continued to contribute to the growing $300 million for research and education, and are also supporting the end to gender disparities in legislation.
About NHCPS
National Health Care Provider Solutions (NHCPS) is the premier online provider of ACLS, PALS and BLS Certification and Recertification for health care professionals.
NHCPS is the very definition of a socially conscious company. All proceeds from the NHCPS support the efforts of the Disque Foundation, a nonprofit organization with a mission of advancing health care education to the underserved both domestic and abroad. With the support of NHCPS, life support training has been made possible to the underserved in areas such as Haiti, Ethiopia, Malaysia, Costa Rica, Panama, and the United States.
For more information, visit http://www.NHCPS.com.