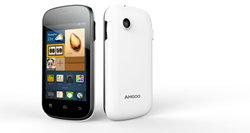 The AM66 shakes off the meaning of what an entry-level smartphone can be.
Shenzhen, China (PRWEB) May 13, 2014
AMGOO Telecom, a rapidly growing brand designer and manufacturer of innovative GSM and CDMA mobile phones for markets around the globe, today announced the launch of their AM66 3G smartphone, tailored for new smartphone users with an uncompromising set of features and an accessible price point for end users worldwide.
The AM66 seeks to address the gap between the accessibility of feature phones for entry-level users, and the life-changing benefits that smartphones offer by providing an sleek handset with an impressive set of features ideal for anyone in search of their first smartphone. While smartphone adoption has reached a pivotal critical mass in developed markets, the cost of these devices remains out of reach for most in the developing world. With an addressable market of 3 billion under served end users, AMGOO is working to create products that better connect our world.
The AM66 shakes off the meaning of what an entry-level smartphone can be, designed to give end-users the ability to access the advanced features not available on traditional feature phones, without limiting the functionality of the handset to a simple touch screen and basic Android functionality without the processor or memory to actually use those features as has been typical in low-end smartphones of the past.
With its slick and trendy design, features, and supported by Android 4.2 and WCDMA 3G, the AM66 is poised to pave the way for new smartphone users to become part of the global conversation. Users will now be able to enjoy the same advanced features as with the AM66's better-known counterparts, such as popular social media platforms Facebook, MSN and Twitter. The front facing (0.3mp) and rear facing cameras (2.0MPx) now make it easy to share photos with friends and family. Uncompromising internal memory of 4GB with the option to expand to 32GB provides end users with an abundance of space to store media.
Features
WCDMA 3G Smartphone
3.5" HVGA 320*480
Rear (2.0 MP) and forward-facing (0.3 MP)
Dual-SIM Card Support
E-Books, Facebook, MSN, Twitter, Games
GPS and FM Radio supported
4GB of internal memory
Extra optional storage up to 32G
USB mass storage and Bluetooth 2.0 supported
1200mAh battery provides up to 3.5 hours of call time and 150 hours of standby
For review units and additional information, please visit our website.
About AMGOO
AMGOO Telecom designs and manufactures innovative GSM and CDMA mobile phones for markets around the globe. We combine advanced research and development with our international team of engineers with state-of-the-art manufacturing in our own facilities in Shenzhen, China to provide innovative, cost-effective solutions using local intelligence that benefits end-users and the operators and distributors that service them.
The AM66 is just one product in a broad portfolio of compelling feature and smartphones designed to meet the needs of end users everywhere, see more here.