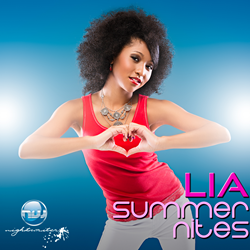 Los Angeles, CA (PRWEB) May 13, 2014
A 2013 FIAT USA/ReverbNation finalist, Pop/Dance vocalist, Lia, is gearing up to blaze the airwaves with NightWriter Music. Lia's debut single, "Summer Nites," is available on iTunes May 13. "Summer Nites" features dance-driven beats with a lush keyboard arrangement produced by hitmaker David "D.A." Doman (Li'l Wayne, Tyga, Nicki Minaj, A$AP Ferg) and written by singer-songwriter MeShun Fuller (Evidence, The Young & The Restless). A magical collaboration and bonafide summer anthem, "Summer Nites," celebrates a sizzling season with catchy hooks showcasing Lia's vocal knack for spinning tales. Visit Lia's YouTube channel to view the official "Summer Nites" music video.
Drawing nearly 1 million viewers, Lia, is a YouTube musical gem, whose 2013 video "Y.A.L.I." (Young And Living It) went viral. Lia's Facebook fans stormed ReverbNation, voting her one of FIAT USA's 2013 musical performance finalists. Featuring fierce harmonies floating along bouncy dance rhythms, "Y.A.L.I." is produced by Kari King and written by singer-songwriter MeShun Fuller.
Originally from Detroit, Mich., Lia is a well-grounded, multitalented mid-teen who calls Tampa, Florida her home. Performing since age 6, the gifted chanteuse has appeared in musicals, acting and dancing, as well as singing. The busy teen is currently working on her forthcoming album for NightWriter Music. Look for Lia's blazing Pop/Dance single, "Summer Nites" on iTunes May 13.