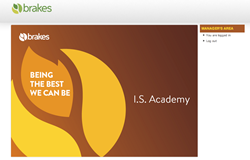 The Brakes IS Academy is was launched straight to Version 3.9, the most innovative version of our award-winning gamified social LMS so far. It utilises superb technology and creates a really unique learning journey for every learner!
Windsor, UK (PRWEB UK) 13 May 2014
With over 10,000 staff based in over 80 locations and with over 50 years' experience, Brakes Group is passionate about innovation, quality and service. That's why Brakes chose to work with Growth Engineering, an award-winning learning technologies company with proven success in securing learner engagement and delivering sustained organisational change.
The problem that Brakes Group needed to address with this new Academy follows on from last year's incredibly successful systems training roll-out on the Brakes Change Academy, also developed by Growth Engineering using the same world-leading technology. The Brakes Change Academy prepared over 3,000 members of staff for a systems upgrade, and now the company needs to maintain the high level of systems knowledge of its employees, both old and new.
The Brakes IS Academy is a next generation learning portal for Brakes staff which utilises Growth Engineering's multi-award winning Academy Platform LMS, a gamified social learning portal that helps clients to create vibrant, engaged learning communities that transform organisational performance. The Academy not only delivers, monitors and reports on formal online training programmes, but also promotes and captures informal learning, too.
A core feature of the Academy Platform LMS that cemented Brakes Group's decision to work with Growth Engineering is that it is world-renowned for achieving impressive levels of learner engagement and users rate it very highly in terms of both enjoyment and effectiveness of learning.
The new Brakes IS Academy will maintain the delivery of the product and systems training information and ensure that all staff members – whatever their role and however long they have been with the company – are fully trained and have access to all the latest training materials.
The Academy aims to upskill and maintain staff knowledge by providing a library full of training materials, allowing learners to take tests and assessments that check their progress and find out where they need more help, automatically pushing training content out to them and putting the learner in charge of their own development. The Brakes IS Academy will also act as the main tool for all classroom management – events will be created and invites sent, tracked and managed through the Academy, with resources easily accessible to support workshop events.
The Brakes IS Academy, which launched on Friday 2nd May and is fully branded, comes with all the features that learners love, such as a chat stream where they can comment, rate content and post videos and images. It also incorporates gamification features such as badges, achievements and leaderboards, which help to engage and motivate learners to take an active role in their own learning and development.
Growth Engineering's Academy Platform was recently placed 2nd in Craig Weiss's 2014 worldwide list of top Learning Management Systems. As it was the highest-ranking LMS with gamification features, this makes Growth Engineering's Academy the best gamified social LMS in the world – giving Brakes Group the reassurance that their new Academy will be just as successful as the Brakes Change Academy, which launched last year.
Juliette Denny, Growth Engineering's Managing Director, said: "It's always exciting when we launch a new Academy for our clients, and the Brakes IS Academy is particularly exciting as it was launched straight to Version 3.9, the most innovative version of our award-winning gamified social LMS so far. It utilises superb technology and creates a really unique learning journey for every learner. We've started rolling out Version 3.9 across our other Academies too and the response has been incredible – the clients and learners love it!"
ABOUT: Growth Engineering are the arch-enemies of dull online learning. We work towards challenging every preconceived notion of eLearning to establish a new and refreshing experience for learners. We aid and inspire learning by creating innovative learning designs and using modern technologies. Our gamified Academy Platform and game-based learning creates all-new levels of engagement and we also offer a library of Ofqual-recognised qualifications to help our learners pump rocket fuel into their professional development. In short, we want to make your learning journey as easy and rewarding as possible.
CONTACT: For more details, please contact: harry.cloke(at)growthengineering(dot)co.uk or phone the office on 01753 840 331.
Website address: http://www.growthengineering.co.uk